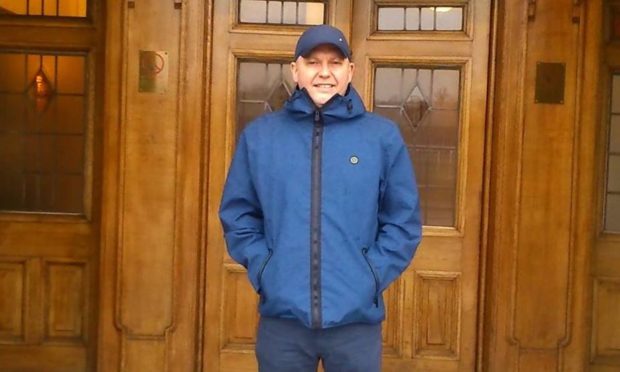 A 'good Samaritan' who violently assaulted a man he believed was about to drink-drive, leaving him with a broken hip, has had his sentence deferred.
Ian Martin appeared at Kirkcaldy Sheriff Court after previously admitting a charge of assault to severe injury.
The court was shown CCTV of the late night March 11 incident involving Martin and his victim Robert Small.
The footage, taken from a car park, showed Mr Martin hugging a friend goodbye outside Molly Malones pub in Leven before noticing the lights of a parked car turning on.
He spotted Mr Small sat behind the wheel of the BMW and began gesticulating towards him before approaching the passenger side of the vehicle.
Following a verbal exchange, Martin walked around to the driver's side as Mr Small attempted to step out the car.
The footage showed Martin shutting his victim in the door before punching him on the head and violently throwing him to the ground.
A stricken Mr Small was left unable to stand following the altercation and had to be helped to his feet by members of the public.
Man left victim with broken hip because he thought he was about to drink-drive
The court was previously told how the 63-year old had suffered a broken hip during the assault.
Defence solicitor Martin McGuire explained that his client recognised Mr Small from drinking inside the pub and became concerned.
He said: "There is no suggestion of any interaction between the two men inside the public house and there's no previous ill feeling between them.
"Mr Martin became aware when the complainer entered the motor vehicle. He was aware of the lights coming on and the sound of the engine starting.
"He formed the opinion that the complainer was about to drive away.
"He recognised the complainer from the public house and had been aware of him consuming alcohol.
"He is obviously quite guilty of the assault and accepts that but this is not the case of a random drunken assault.
"The lead up to the assault puts his actions into a particular context."
He urged Sheriff Jamie Gilchrist QC to impose a community based disposal but required further time to get a GP note, declaring if Martin is fit to perform unpaid work.
Martin, of Whyterose Terrace in Methil, will reappear for sentencing on February 20.