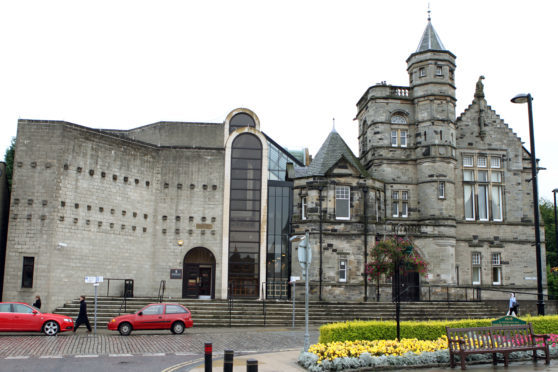 A rapist who left his teenage victim pregnant following an attack is back behind bars after breaching a sexual offences prevention order (SOPO).
Anthony Gibson, who was jailed for sexual assault in 2010, had been ordered to tell his supervising officer about any new relationships he formed with women.
The five-year SOPO was imposed in 2016 after he was convicted for sending inappropriate text messages to another woman in Edinburgh.
However, the 31-year-old failed to tell his supervising officer when he met his new partner on the dating website Badoo in November 2018.
The rapist, who repeatedly smirked in the dock, appeared at Kirkcaldy Sheriff Court yesterday where he pled guilty to breaching the order.
The court was told Gibson had met his new partner online while he was living at an address in Randolph Park, Glenrothes.
Police were notified and Gibson told officers he had not informed anyone from the offender management unit because he was worried about what they would do.
Depute fiscal Alex Kirk said: "The police contacted the female and arranged for her to attend at Glenrothes police station to ascertain the nature of their relationship.
"She said they had met two or three times before she carried out an internet search on the accused and found out about this previous conviction.
"Despite this, she continued the relationship with him. The police attended at the accused's home and found him standing at the door with the female. He was then arrested."
Defence solicitor David Storrie said: "With hindsight, he ought to have known better. He apologises for his stupidity.
"This is an extremely serious matter but in the main, he has complied with the notification requirements and subsequently, the conditions of the SOPO when it was imposed in 2016.
"This is the first breach. He does understand the seriousness of his actions and why the order was imposed.
"He was worried that he would never be able to even meet the female if he had first informed the offenders management unit as they would make contact with her.
"As a result, the relationship would not have got off the ground. He will still be subject to the SOPO until 2021 and that may be extended."
He added that the woman was still supportive of Gibson.
Sheriff James Williamson jailed Gibson for 12 months, back dated to December 6 when he was remanded in custody.
Gibson, a prisoner at HMP Perth, was jailed for five years and eight months in 2010 after raping a 16-year-old girl at a hostel in Edinburgh.
After discovering she was pregnant, she terminated the pregnancy. Police carried out DNA testing on the foetus which came back as a match for Gibson, prompting him to plead guilty at Edinburgh High Court.