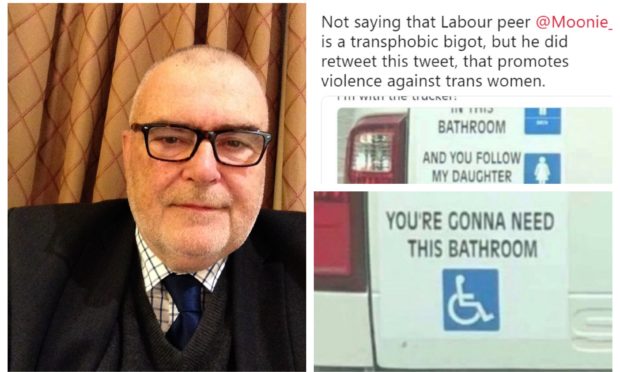 Labour peer Lord Lewis Moonie has been reprimanded over his use of Twitter.
It is understood the Labour party wrote to the former Kirkcaldy MP after sharing a post relating to transgender issues.
Mr Moonie, who has a medical background, did not want to comment on the row.
The 71-year-old describes himself as a campaigner for women's rights and has said that single-sex spaces such as toilets and changing areas, protected under the Equality Act 2010, should be not be open to those who "self-identify" as women.
He has argued women could be vulnerable to attack if single-sex spaces are not protected, maintaining his opinion has "nothing to do with genuine trans people".
More to the point too, it has nothing to do with genuine trans people, and everything to do with aggressive exhibitionist heterosexual males taking advantage of single sex facilities.

— Lewis Moonie (@Moonie_l) January 19, 2019
In one Tweet, he said: "Transpeople have the same rights as anyone else. What they don't have is the right to force me to believe they acquire the sex they aspire to, nor to invade single sex spaces protected by the Equality Act 2010 unless they have undergone reassignment."
Each one as rare as hen's teeth. Each one based on reality, not magic. Trans women are men. Trans men are women. Each entitled to their own place in society not to usurp someone else's.

— Lewis Moonie (@Moonie_l) January 14, 2019
The image which led to his reprimand related to a message appearing to be pasted on the back of a van relating to transgender women using female toilets.
Not saying that Labour peer @Moonie_l is a transphobic bigot, but he did retweet this tweet, that promotes violence against trans women. pic.twitter.com/rEvGTicKmg

— UK Transadvocate (@UKTransadvocate) January 13, 2019
A Labour source said: "It is clearly not acceptable to share such an image.
"Lord Moonie has been reminded of the high standards expected of Labour peers. The matter has been referred to the Lords Chief Whip to reinforce this reminder to Lord Moonie."
---
>> Keep up to date with the latest news with The Courier newsletter
---
A spokesperson for LGBT Labour said: "This image is totally unacceptable and we welcome the fact this matter has been referred to the Lords Chief Whip's office.
"This behaviour is unacceptable from any member of the Labour party but especially from a Labour peer.
"We work day in, day out to ensure that Labour is leading on trans rights in the UK and we need to ensure that transphobia is eradicated from our party, politics and our society."
Transgender Fife said women should have protected spaces but "transgender women are women too".
A spokesperson for the group said there was a need for greater education and awareness of transgender issues.
"Transgender Fife respects the right of all individuals to have their own opinion, but is distressed at the level of animosity displayed by so many people in society on so many issues, and the amount of hatred that is stirred up against minority groups in general," she said.
"We see this as an indication of the need for greater education and awareness in so many matters, and we do what we can to promote understanding of transgender needs within the community."
She added: "The debate here is not really about transgender women, it is about whether male perverts are likely to dress up as women and access women only spaces in order to exercise their depravities.
"The upsurge in transgender awareness over recent years has had no effect on that, in reality, but the scaremongering surrounding transgender rights has stirred up a hornets' nest and paints all transgender women as perverts.
"This, of course, could not be further from the truth. Being transgender is not a lifestyle choice it is a fact for so many people, many of whom are still too scared to come out in public."