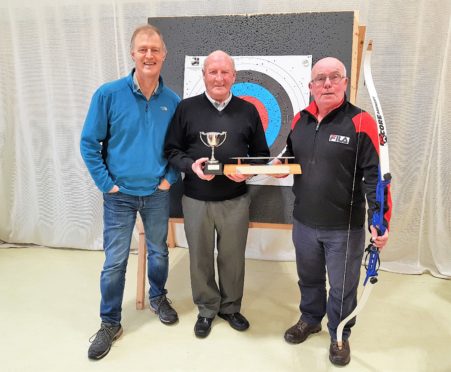 A Dunfermline veteran with sight loss has discovered an unlikely talent – mastering the art of archery within just two years of taking up the sport at the age of 80.
Bill Stevens, had never shot an arrow before he began attending Scottish War Blinded's activity hub for veterans, the Linburn Centre.
The 13th/18th Royal Hussars QMO veteran has macular degeneration – an eye condition which can result in blurred or no vision in the centre of the visual field.
He said he had never imagined he would be able to take part in a sport such as archery.
But with coaching and support from Linburn Centre officer Tim Searles, who set up the charity's archery club in 2012 and is a qualified archery instructor, the veteran quickly learned how to adapt.
Bill, 82, who served in the forces on National Service from 1956 to 1958, said: "It was only after I lost my sight that I tried out archery.
"It was funny to start with because I'm left-handed, but when I used the bow and arrow as left-handed I couldn't see with my left eye.
"That meant I had to change over to shoot right-handed so I could see with my right eye. It was hard to change over, but Tim at the Linburn Centre is a great instructor.
"I just progressed from there. I enjoyed it so I kept going back to it."
Bill came out on top in the novice category of Scottish War Blinded's annual Royal Scots Club Silver Arrow Championship in both 2017 and 2018, competing against fellow veterans with sight loss.
And the veteran was crowned champion in his first external competition at Lothian Disability Sport Archery Competition at the end of last year, competing against archers with a variety of physical, learning and sensory impairment.
This year, he hopes to take his competitive streak up a notch and shoot against other archery clubs in competitions across the country.
Blind or partially sighted archers can do so with the help of a spotter, a sighted assistant, who can help them to shoot safely.
Some people use foot locators to ensure they stay in the same position for each shot.
Bill, who has been a widower for 14 years, attends the Linburn Centre at Wilkieston, West Lothian, twice a week and takes part in a number of other activities there, including woodwork and bowls.
He added: "When I lost my sight, I thought that was the end of everything, but the centre's given me a new lease of life. You meet new friends. I've been a widower for 14 years now, so it's a big thing in my life."
Mr Searles said: "It's fantastic to see how Bill has developed in archery in a relatively short space of time, and we're very proud of his success in both the Silver Arrow and the Lothian Disability Sport Archery Competition."