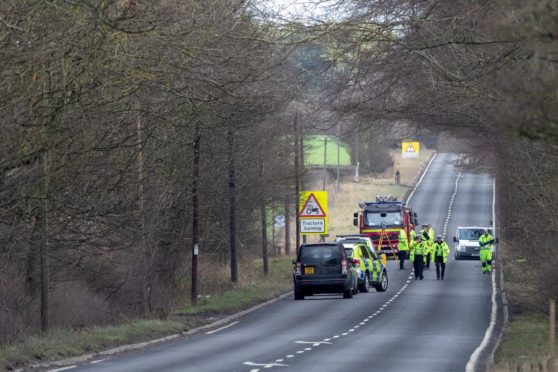 An ambitious bid to dual a notorious Fife road is to be launched by local councillors next week.
Labour's Ryan Smart will call on the Scottish Government to consider funding an upgrade to the single carriageway A915 Standing Stane Road, the scene of two horrific accidents in the space of a few weeks recently.
In a motion to go before Fife Council's Levenmouth area committee on February 6, Mr Smart will urge members to agree to ask Scottish ministers to look at options for the busy main route between Kirkcaldy and Levenmouth.
As well as considering the feasibility of funding a dual carriageway, Mr Smart wants Holyrood to examine other safety measures including crash barriers and average speed cameras.
A petition calling for the speed limit on the A915 to be cut from 60mph to 40mph before considering a dual carriageway was launched in the wake of the two accidents, which together claimed three young lives.
It already has the backing of more than 2,000 people, including SNP councillor John O'Brien, but Mr Smart does not believe reducing the limit will improve safety.
"The petition highlights the need to do something but I don't necessarily agree that creating a 40mph limit is the answer," he said.
"If people are going to speed, they'll speed anyway. There are better ways to look at it."
Mr Smart, whose motion has been seconded by fellow Labour councillor David Graham, said the issue on the Standing Stane Road was a long-standing one.
"It can't just be accepted that every few years people are going to die in this way," he said.
"We need to do something to prevent it."
As well as preventing further tragic loss of life, Mr Smart said measures to reduce accidents would also benefit local communities.
"Every time something happens on the Standing Stane we have hundreds of cars redirected through Wemyss and it's not fair on the people who live there," he said.
"The roads weren't built for that volume of traffic.
"There's a long-term issue there that politicians haven't been able to do find a solution to."
He added: "This motion is not about saying we demand £15 million for a dual carriageway, it's looking at the feasibility of what we can do.
"If it turns out a dual carriageway is the way, let's then lobby the Scottish Government for money to do that."