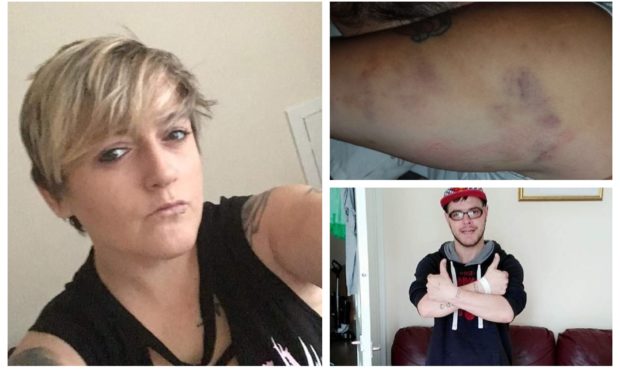 A Fife woman who was left with a boot print on her face following a brutal assault has expressed her horror after the thug responsible walked free from court.
Becky Young was attacked during a surprise birthday party she had organised for Alexander Smith on November 8, 2017.
The 33-year-old was repeatedly punched, kicked and pushed during the assault before Smith repeatedly jumped on her head at her former home in Baird Crescent, Leven.
The attacker, 36, who is known as Eck, was found guilty of assaulting Becky and her partner following a trial at Kirkcaldy Sheriff Court.
He was placed under 18 months supervision and ordered to perform 300 hours of unpaid work within six months.
Mother-of-six Becky said: "I'm quite shocked at the actual outcome and the sentence he received if I'm completely honest.
"He may have been found guilty but he's still out walking free which is quite frightening and worrying because other people don't know what he's done.
"I'd known him since I was a teenager and he needed a place to stay because him and his partner had broken up. I didn't suspect he was capable of anything like this.
"It was his birthday that night and we had organised a surprise do with a few people round for some food and drinks.
"We were having a laugh, playing a couple of games. After my ex-partner left at around about 7.30pm, Eck began being threatening towards my partner.
"I stood up off the couch and tried to calm him down. But he grabbed hold of me and pushed me. He was on top of me and punched me in the face.
"I managed to push him off and got up but he started pushing me over a brown leather chair in the living room. He kept pushing onto the chair four or five times before I went over the chair.
"He then picked me up and dragged me along to the door where he started kicking me and punching me over and over again. He then went over and assaulted (my partner) who was on the couch.
"I was completely dazzled but managed to pick myself up and get through to the kitchen when all of a sudden he was standing about two metres away from me.
"He charged at me and kicked me right in the stomach which made me drop to the ground, where he repeatedly started kicking and punching me again.
"(My partner) came through and he dragged her down to the floor next to me.
"That's when he grabbed a big kitchen knife, which was a good few inches long. The way he lifted the knife, I thought he was going to put it through me.
"I covered my face with my forearm so I wouldn't see what I thought he was about to do. He chucked the knife onto the kitchen bunker and then grabbed me and chucked me into another corner where (he) began stomping on my head."
After begging him to stop, Smith then helped a stricken Becky off the ground.
A downstairs neighbour had called police, who arrived and arrested Smith.
Becky was taken to the Victoria Hospital for treatment and says she has been left with PTSD and nerve damage to the right side of her neck.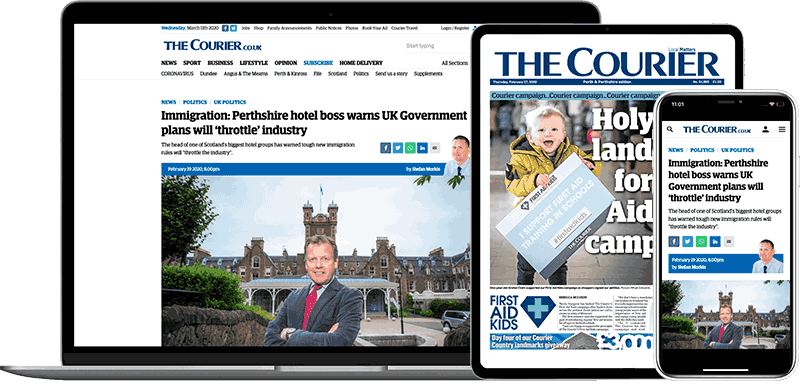 Help support quality local journalism … become a digital subscriber to The Courier
For as little as £5.99 a month you can access all of our content, including Premium articles.
Subscribe