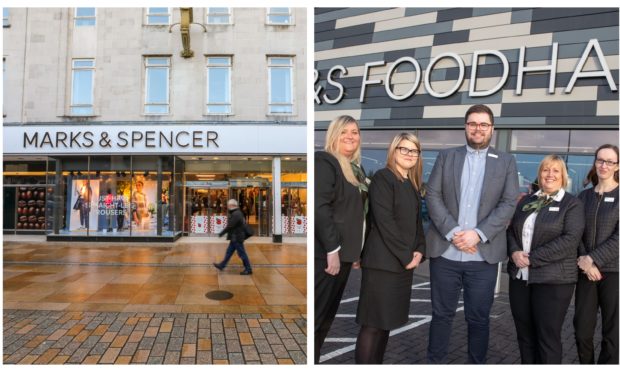 There were sad scenes in Kirkcaldy as the town's Marks and Spencer closed for good – as the retail chain opened a brand-new branch in neighbouring Glenrothes.
The Lang Toun shop – which has been a feature of the town centre for eight decades – closed its doors for the final time on Tuesday.
Staff lined up outside the entrance to the store and applauded as the last ever customers walked out of its doors.
The closure was announced last October as part of the retailer's plans to axe more than 100 branches by 2022.
However the end of an era for Kirkcaldy was juxtaposed by a new beginning for the branch in Glenrothes, where M&S opened its new Foodhall on Wednesday morning.
Some 74 employees were affected by the Kirkcaldy closure, however many of them have been relocated to the Glenrothes store.
While clearly very disappointed that @marksandspencer have closed their clothes and food store in Kirkcaldy, glad to see that their foodhall opened in Glenrothes today.
Aisles a little jammed! pic.twitter.com/By9K8mB3Hc

— John Beare 🏴󠁧󠁢󠁳󠁣󠁴󠁿 (@johnbearesnp) February 6, 2019
@marksandspencer very, very sad that our local Marks & Spencer's is closing today in Kirkcaldy after 80 years. The end of our high street.

— Rachel (@Cherrytoes1) February 5, 2019
@marksandspencer This is my last #Breakfast in #Kirkcaldy branch cafe as it closes on Tuesday 😞😢 sad times but had many a great coffee and scone there over the years #Goodluck to all the staff #Kirkcaldy high street will miss you 🙌🏼🏴󠁧󠁢󠁳󠁣󠁴󠁿😞😱 pic.twitter.com/dxy6oCijdS

— Karen Anderson (@shopaaholic2) February 2, 2019
Shona Lawrie, head of M&S's Scotland North and East region, said: "Closing a store is never easy and we'd like to thank our customers for the support they've given the team throughout the process, as well as their loyalty over the years.
"I'm really delighted the majority of the Kirkcaldy team have moved over to the new Glenrothes Foodhall which opened its doors today and we hope to see lots of familiar faces visiting us there, as well as shopping at other stores in the region and on M&S.com."
Hundreds of locals showed up as the Glenrothes shop opening was marked by a ribbon-cutting ceremony led by M&S worker of 45 years June Grubb and "local hero" Mike Mowat.
Manager of the Foodhall Ryan O'Donovan said: "The team has been working so hard to get ready for the opening and it's been brilliant to see the community turn out to support us today.
"We're excited to be part of the Glenrothes community and we can't wait to get to know our local customers.
"What made it extra special was that local community hero, Mike Mowat, was part of our celebrations. We were really delighted to celebrate his efforts today."