The St Andrews University science building ravaged by fire holds "the key to lifetimes' work" for some academics.
University Principal and Vice-Chancellor Sally Mapstone said specialist refrigerators in the smoke and water damaged lower floors of the biomedical science building in North Haugh contained "critical" research materials.
In a letter to staff and students, she said the process of recovering items from the building would start on Monday afternoon.
She said: "This afternoon, we are working with the fire service to gain supervised access to key areas of the building to begin recovering as much research material as we can.
"That process could take several hours, or days, and it may be considerably longer than that before we will know the full extent of the effect of the fire on our portfolio of world class biomedical research."
St Andrews University fire: Police say blaze was 'accidental'
The fire was limited to four rooms on the second and third floors, but other parts of the building have suffered damage.
"We have however been advised by the fire service that there is likely to be extensive water and smoke damage to other areas of the building and especially the lower floors," said the university principal.
VIDEO: Major blaze rips through St Andrews University building
St Andrews science building blaze: Research material will be salvaged, says university
"I know that it is this aspect of the fire which has caused particular distress to colleagues who work in BMS (biomedical science).
"The lower floors house specialist fridges and liquid nitrogen containers in which are kept cell lines and other critical research materials, in some cases the key to lifetimes' work.
"The profound concern this incident has caused was evident to me from the many conversations I had with colleagues from chemistry and biology whom I met at the scene last night."
Police have confirmed the blaze was accidental. 
Professor Mapstone spoke of her relief that nobody was injured in the fire, which broke out shortly before 5pm on Sunday.
And she revealed that university staff had even visited people's homes to ensure they were safe.
She continued: "Although the Scottish fire service had no reports of casualties when arriving on scene last night, university staff spent several hours diligently going through the swipe card entry logs for the BMS building and contacting every person by phone, or in some cases by visiting their home, to ascertain that everyone who had been in the building recently was safe and accounted for.
"That task was completed shortly before midnight last night."
Professor Mapstone added: "It is a fraught time for everyone connected with BMS and I am aware of the extent to which colleagues across the university, and in other institutions, have been in contact to bring moral and some very practical support. By itself, that response does St Andrews proud.
"I am grateful to everyone involved with the university's major incident team, which is still dealing with the aftermath of the fire, and who worked hard through the night to ensure that the adjacent Purdie and BSRC buildings could be reopened as promptly as health and safety regulations would allow.
"I know that some of our students missed classes first thing this morning. We of course regret that disruption, but trust that students will understand that these were extraordinary circumstances, and that the emergency services, and not the university, had to make the final call on re-opening closed buildings.
"The police have confirmed that the cause of the fire is not suspicious, and we will now work with the fire service and other agencies as appropriate to recover the building as quickly as possible and to make such alternative arrangements as are necessary to allow our BMS colleagues and students to continue their important work."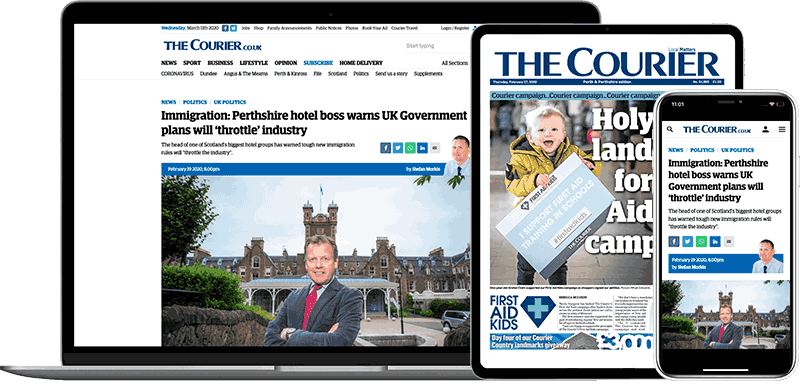 Help support quality local journalism … become a digital subscriber to The Courier
For as little as £5.99 a month you can access all of our content, including Premium articles.
Subscribe