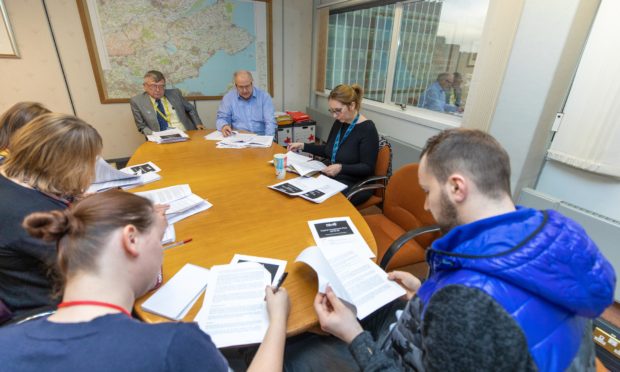 Fife Council has no plans to introduce a workplace car parking levy as it seeks to find almost £5 million of savings in the coming year.
The mixed urban and rural nature of the region combined with a lack of suitable public transport have been cited as reasons for dismissing the hike.
Opponents of the Scottish Government's plan to give local authorities the power to introduce the tax feared workers would be fleeced for hundreds of pounds per year.
The introduction of a tourist tax also looks likely to be rejected in the coming year, although it could be considered in the future.
The decisions by Fife's joint SNP/Labour administration were revealed on Wednesday as co-leaders David Alexander and David Ross unveiled their 2019/20 budget proposals, due to go before the full council for approval next week.
If passed, Fifers will face a 3% council tax rise roughly in line with inflation, as well as an increase in prices for school dinners, burial services and some other services.
Charges for community alarms and meals on wheels will be decided later.
Schools will also see the teacher supply budget hit while high school management structures will be reviewed, indicating the removal of principal teacher positions.
But proposals to cut music tuition, pupil support assistant posts and breakfast clubs have been rejected, and the level of cleaning in schools will be maintained.
Meanwhile, investment in a £400,000 year-long trial will see free lunches provided at 24 schools during the holidays in an effort to prevent holiday hunger in poorer areas.
And £300,000 will be ploughed into addressing dangerous headstones in the region's cemeteries.
The leaders said the council had been given an extra £16 million of Scottish Government funding but that much of it had been ring-fenced to fund free personal care for under 65s in line with Frank's Law and the expansion of free childcare provision.
"When it comes to our core grant to run everyday services, there is a cut of £4 million," said Labour leader David Ross.
"When you take inflation into account we have £9m between what we think we need to spend to maintain the current level of services and our income."
Mr Ross said the cumulative effect of budget cuts over a number of years was now making things very difficult.
"We've seen £219m of cuts since 2010 and lost 2,000 staff. We can't minimise the impact of that," he said.
SNP leader David Alexander acknowledged times were hard but added: "The end result is we've probably now got one of the better outcomes in many years compared to other local authorities.
"We're very aware we're dealing with people's lives and people's jobs and services.
"Some of the savings are efficiency savings and some we wouldn't want to do if we could avoid it."