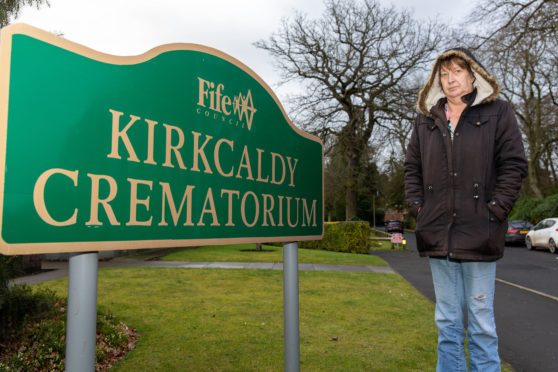 A grieving family who travelled from Kinross-shire to pay their respects to a lost loved one were shocked to find themselves locked out of a Fife crematorium without warning.
Rosie Dalrymple said she was left "very upset, angry and distressed" by the incident, which happened on the 10th anniversary of her father's death.
She had checked the opening times on Fife Council's website before setting off from her Milnathort home to head for Kirkcaldy on Sunday February 3.
The family had planned to view the book of remembrance in the crematorium's office on the anniversary of dad George's death in 2009.
She picked up her mum Wilma and arrived at Kirkcaldy crematorium about five minutes before the office was due to open at 11am.
Rosie, whose daughter and son in law and their children also made the trip, said other families were already in the car park waiting.
They included an elderly man who had mixed up the opening times and had been there since 10am.
"The phone number was on the notice board, but when we tried it no one answered – because no one was inside," said Rosie.
She then called a number for Dunfermline crematorium.
"Give him his due, he did phone someone else but unfortunately they couldn't come out," she added.
Rosie, who has paid her respects to her dad on the anniversary every year, said it was a devastating blow for the family.
"I accept the person who was meant to be there could have been ill or whatever, but surely someone could have put a notice up online or on the board saying 'due to unforeseen circumstances'," she said.
"We were downhearted."
Fife Council's bereavement services manager Liz Murphy said: "I'd like to apologise to all the families who were unable to access the book of remembrance on February 3.
"We understand how important it is for grieving families to be able to see the book on specific days.
"Unfortunately, the crematorium had to close at very short notice due to staff illness and we were unable to get emergency cover for that day.
"For security reasons the book of remembrance is only available for viewing during office hours and a member of staff must be on premises to facilitate this."
She encouraged any of the families affected to contact the Kirkcaldy Crematorium office on 01592 583524 to arrange another time to view the book of remembrance.
"I will be writing to the Dalrymple family individually regarding their complaint," she added.