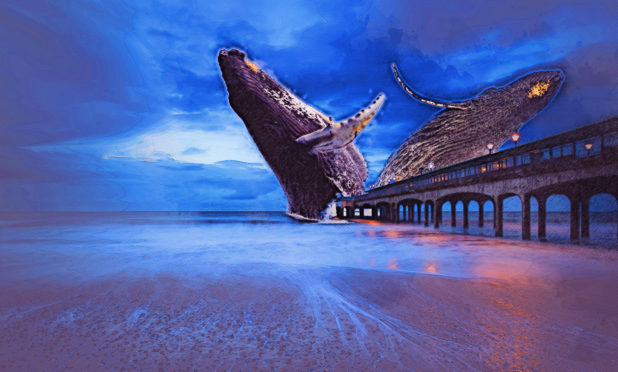 It's been a busy old week again in the Fife office of The Courier.
There's been the usual round of stories of personal tragedies and triumphs, of people doing good and people doing bad things.
But one story emerged which certainly got everyone talking.
And that was an ambitious plan to make one part of Fife the stomping ground of what would be the world's largest whale sculpture.
Emerging from the waves of the Forth, they'd be joined by a 1,000ft long pleasure pier on Leven's seafront.
It's all the brainchild of Conservative Councillor Graham Ritchie who reckons it would enhance the long running campaign for a Levenmouth rail link by being a tourist magnet.
There's the not inconsiderable £55 million estimated price tag to consider, of course, but as the councillor pointed out, we've landed on the moon, so why not try?
There's been some negativity, and eye rolling at the – some would say – outlandish scheme, admittedly.
And yes, in these straitened times Fife doesn't have a golden pot of cash (or if it does it's not been found yet by the Fife Council Administration which is about to present its proposed budget).
But there were a lot of naysayers about the Kelpies too. And look how that turned out?
Surely without a bit of positivity and – okay I apologise in advance but I am going to say it: "blue sky thinking" – would we all just be content to grumble and moan a bit and do nothing?
We all know our High Streets are in crisis, but so far no one's come up with a cast iron solution to reverse their fortunes.
We know businesses are struggling and that's without the spectre of Brexit.
Maybe a new approach is needed – and having a whale stationed at Leven could be a massive shot in the arm for Fife which is enjoying a buoyant tourism industry worth £588 a year to the local economy and supporting more than 12,000 jobs.
We already have the world's longest three-tower cable stayed bridge, Fifers assembled the navy's largest ever warships, and across the Tay few would have thought a couple of decades ago that the V&A would come to town.
So why not continue to think big?
Let's have ambition and drive – after all it worked for Kevin Costner in Field of Dreams.
If we build it maybe, just maybe, they will come.