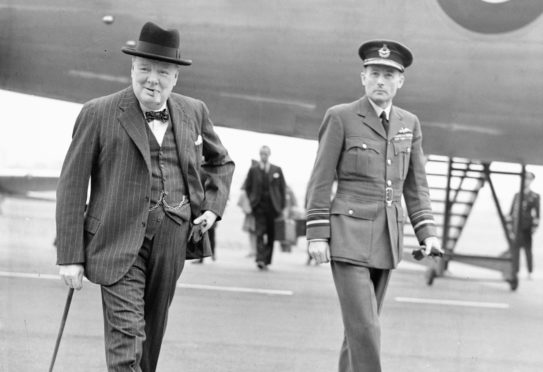 Medals belonging to the Fife-born mastermind of the Dambusters raid will be auctioned in London this month.
The highly important Great War "Airships" Air Force Cross group of ten, awarded to Air Chief Marshal The Honourable Sir Ralph "Cocky" Cochrane, are expected to sell for between £6,000 and £8,000.
They have been described as one of the highlights of the sale of orders, decorations, medals and militaria organised by specialist auctioneers Dix Noonan Webb on February 27 and 28.
Born in Springfield, near Cupar, in 1895, Cochrane was the youngest son of Thomas Cochrane, 1st Baron of Cults.
He worked with bouncing bomb inventor Barnes Wallis during the First World War, flying his experimental airships and testing the world's first airship mooring mast.
He later became the first Chief of Staff of the Royal New Zealand Air Force and commanding officer of the No 5 (Bomber) group from 1943 to 1945.
Cochrane then went on to plan some of the most important air operations of the Second World War, including Operation Chastise – better known as the Dams Raid.
Depicted in the 1955 film The Dambusters, it used Wallis's water skipping-mines to bomb German reservoirs which badly affected the country's infrastructure.
Mark Quayle, specialist and associate director of Dix Noonan Webb, said he expected Cochrane's  medals to attract interest from collectors across the world.
"We are delighted to be offering this group in our first medal sale of 2019," he said.
"Given the importance of Air Chief Marshall The Honourable Sir Ralph "Cocky" Cochrane's career, we feel that this particular group will appeal to all types of collectors on an international level."
He added: "Cochrane had close links to Barnes Wallis throughout his long career, the most high profile of all being the planning of Operation Chastise – the Dams Raid.
"Cochrane, a brilliant and meticulous planner, also masterminded the eventual sinking of the German battleship Tirpitz in 1944."
Also included in the sale is the rare Boer War Conspicuous Service Cross pair, awarded to Midshipman T.F.J. Livesy-Wardle of the Royal Navy for his gallantry at the Battle of Graspan in 1900.
It was one of only eight ever to be awarded and is estimated at £15,000 to £20,000.