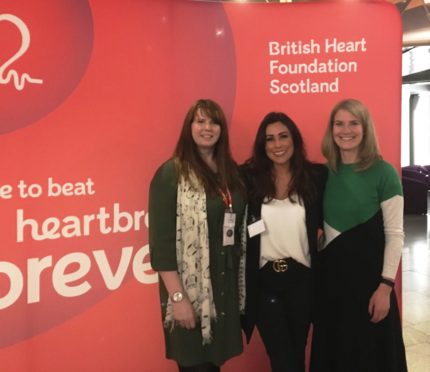 A Fife woman who was diagnosed with a heart condition as a child is appealing for local residents to join a new fundraising group.
Gaynor Williamson has worked tirelessly to raise funds for the British Heart Foundation Scotland after discovering she had a congenital heart defect when she was 10.
The Dunfermline resident has expressed her gratitude to the charity for the care and support they have given her over the years and has even run the London Marathon as a 'thank you'.
Around 48,500 people across Fife have heart and circulatory diseases.
The devastating conditions claim the lives of more than 1,060 people each year in the kingdom alone.
Gaynor said: "I have always been amazingly grateful for the support and care my family and I have received from the NHS and the British Heart Foundation and began fundraising as a thank you.
"I ran the London Marathon for the BHF back in 2005 and since then, my aim has been to raise over £500 a year.
"Being part of the new Dunfermline BHF fundraising group is a way to meet new people, make great friends, get involved in your local community, and support pioneering research to help better understand and treat heart and circulatory disease – and all while having fun."
The new Dunfermline BHF fundraising group is set to launch in February with plans to kick off charity events soon after.
A volunteer taster event is being held at the Fire Station Creative on February 23 at 11am.
Lisa Robertson, fundraising manager in Fife for BHF Scotland, added: "People can come along and find out more about the group and help set out the plans for the year ahead.
"Dunfermline is such a wonderful community and we think that the new group is going to fit in perfectly.
"Coronary heart disease is Scotland's single biggest killer and this is why our fundraising groups are so important.
"Without them, we wouldn't be able to carry on funding our lifesaving research"
For more information about the taster event or joining this exciting new group please contact Lisa Robertson on 07920 088318, email robertsonl@bhf.org.uk or register to attend our event at dunfermlinebhf.eventbrite.co.uk.