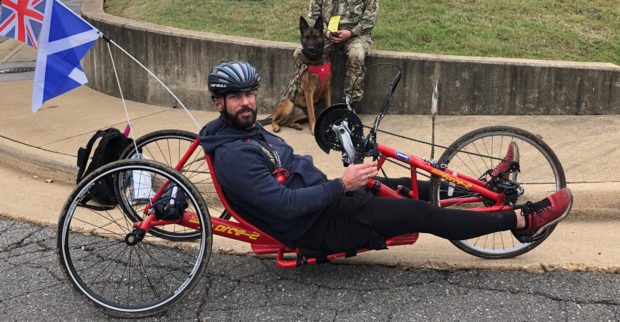 Injured Fife veteran Ben Groves has his sights set on competing in the 2020 Invictus Games.
The Dunfermline man is going for glory after forces charity Help for Heroes introduced him to the concept of recovery through sport.
The 39-year-old, due to be medically discharged later this year after 17 years in the forces, enlisted after seeing the Twin Towers attack.
The father-of-four served for eight years as a Royal Military Policeman in Germany.
But after two tours in Iraq he felt he could make more of a difference as a bomb disposal operator, retrained as an ammunition technician and was posted to 11 EOD Regt Royal Logistic Corps, serving in Afghanistan, Falklands and Kenya.
Ben was seriously injured while operating as part of an IED disposal team in Helmand in 2010.
He still has shrapnel embedded in his left leg which can't be removed.
As a keen cyclist, he is training daily for the Help for Heroes Big Battlefield Bike Ride in June, commemorating the 75th anniversary of the D Day landings.
Following the success of last year's Sydney Games and previous events, Help for Heroes, the MoD and Royal British Legion have designed a programme leading up to the next tournament.
Giving the chance for people to engage with sport at all levels, this celebration of sport will culminate in the Team UK Invictus Games trials in Sheffield in July.
Having taken part in a taster event, he is now focusing on the UK trials for the games, established by Prince Harry, which will be staged in 2020 in The Hague.
The cyclist hopes to follow in the footsteps of silver medallist Michael Mellon from Cardenden, who was the only Scot to compete in the Invictus Games last year.
He said: "After hitting rock bottom last year I succumbed to the despair that PTSD brings with it.
"I didn't leave the house, pushed my friends and family away and thought my home was my 'castle' and safe place."
But through sport and competition he  was shown a way to re-engage with the outside world.
"It gave me a purpose, a belonging and a reason to live and I have made new friends along the way."
He could not stress his gratitude to Help for Heroes enough as the support he has been given has reaffirmed his competitiveness and shown his potential to others.
Ben has now set his sight on a 500-mile tourist route through the Highlands, in what he hopes will be a first.
He said: "My ambition is to ride non-stop around the North Coast 500 route on my handcycle, a feat I don't believe has been achieved to date.
"I want to raise money equal to or greater than the financial support I have already received.
"I feel it is crucial that I pay back what I have taken out so that others may receive the support they need."
Veterans and currently serving personnel can find out more information and sign up to join Team UK before March 9 at http://h4hweb.com/jointeamuk.