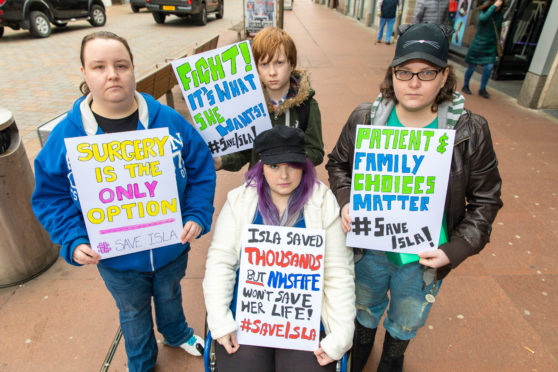 The family of a former midwife are fighting for potentially lifesaving surgery amid claims she is being denied the treatment by NHS Fife.
Isabella Keatings, 62, has a 7cm tumour in her bladder but medics say she cannot have an operation to remove it as she has multiple sclerosis and prolonged anaesthetic would be too risky.
Her family say surgeons have broken ranks to tell them the procedure could be conducted by a more experienced team with no more risk than to any other patient.
On Saturday they staged a protest in Kirkcaldy town centre to raise awareness of her case and their Save Isla campaign on Facebook and Twitter.
This is Isla. She gave 27 yrs to the NHS as a midwife. She's being denied surgery to remove a tumour because she has M.S, something NHS staff have broken ranks to say could be done by a "more experienced team". NHS Fife is refusing. RT to show @nhsfife she deserves the right! pic.twitter.com/crMCeYnyg7

— Martin J Keatings (@MJKIndependent) February 11, 2019
Son Martin has guardianship for Isabella, known as Isla, who also has a form of dementia and is unable to speak.
He, his father Jim and sisters Kirstie and Lisha fear the mass, believed to be cancer, could spread and prove fatal.
They have submitted a complaint to NHS Fife, alleging Isabella, of Dunfermline, has been "written off" and say the health authority has stopped communicating with them.
Martin said: "We are sitting here with NHS Fife deliberately obfuscating and refusing to answer questions.
"Meanwhile, my mother has a 7cm unidentified mass in her bladder which could metastatise at any time.
"It's disgusting. You are supposed to have trust in your healthcare provider.
"They have point blank shut the family right out of the process, knowing damn well this surgery can be provided with no more risk than for any other patient."
Isabella, who is in Victoria Hospital, Kirkcaldy, was a nurse for 27 years, latterly a sister midwife at Borders General Hospital.
She gave up her work as her MS, diagnosed in 1984, progressed.
NHS Fife medical director, Dr Frances Elliot, said: "This is a particularly complex case.
"We are obliged to protect the confidentially of those in our care and are, therefore, unable to comment on matters relating to individual patients.
"I am clear, however, that our priority is that all patients should receive care which is compassionate, clinically appropriate, ensures dignity at each stage of treatment, and delivers the best possible outcomes in any given circumstance."