Michael Alexander meets D-Day Parachute Regiment veteran Eric Tandy who celebrates his 95th birthday in Fife today.
It reads like the plot from a blockbuster movie script.
Accidentally dropped behind enemy lines, a young British paratrooper tries to make his way back to his own regiment through a minefield only to be captured by the enemy and held half-starved in a prisoner of war camp before being force marched with fellow POWs to become human shields in Berlin.
But that's exactly what happened to former 7th Battalion The Parachute Regiment sergeant Eric Tandy, now of Glenrothes, as he took part in the infamous Pegasus Bridge campaign during the Second World War.
The then 20-year-old was the sergeant in charge of an aircraft carrying paratroopers from England to France as airborne forces of the British Army took part in the early stages of the Normandy Landings on June 6, 1944.
Now, in an exclusive interview to mark his 95th birthday on Tuesday February 26 – and the 75th anniversary of the D-Day landings this summer – Eric has relived those events from the closing months of the war, and told of the impact they had on his life.
"The thing that strikes me most is what happened leading up to the invasion the day before," he told The Courier.
"We were at Fairford. We'd drawn our chutes, we were ready to go, then the drop was cancelled.
"We had to leave our chutes in one of these underground air raid shelters.
"That was the first time any of us had ever been parted from our chutes since the start of training.
"The next day we took off and circled the whole of Britain. We dropped at about midnight.
"Before us there was the Air Landing battalion led by Major Howard. He dropped with six gliders right alongside Pegasus Bridge.
"The 7th battalion – that was mine – came in at midnight which was only five or 10 minutes behind Major Howard's and we relieved them.
"After that came the Commandos who came across the bridge and defended outwards.
"I was the first onto the aircraft and, therefore, the last to exit ensuring that all paratroopers had left the aircraft.
"Unfortunately, midway through the job of deploying the soldiers out of the aircraft, a medic was wounded by anti-aircraft fire.
"He crawled to the exit of the aircraft, resulting in delaying the rest of the "stick" from exiting the aircraft, causing us to overshoot the drop zone by about 10 miles."
Eric explained that on landing, a gunner corporal and he attempted to make their way back to Pegasus Bridge where the Allies' mission was to seize the bridge over the Orne River and prevent German armour from crossing over to attack the eastern flank of the landings at Sword Beach.
However, they came across two Commandos trapped in a minefield – one being mortally wounded and the other unhurt.
Eric used his experience of minefields to get them out of the danger zone.
However, later that morning, and after coming under enemy fire, they were taken prisoner after German troops set up camp to cook breakfast and found them hiding in a hedge.
"A sentry had been posted and was patrolling towards us –so we took cover in the hedgerow," recalled Eric.
"We heard a cat meowing which made the sentry take interest and he started looking for the cat.
"Unfortunately, when he looked down, he saw us hiding in the hedge!  He shouted out and we were surrounded by his comrades, when we were taken prisoner."
After a couple of days, Eric and his colleagues were taken to Stalag 357 at Fallingbostel where he was a Prisoner of War for approximately eight months.
"There was very little food and we were pretty much starving," he said. "Both prisoners and Germans had very little in the way of rations.
"Towards the end of the war, the Germans were moving all Prisoners of War towards Berlin in an effort to stop the Allies – the Russians – from bombing Berlin and we were amongst them.
"The Germans eventually abandoned us en-route when we were liberated by British Airborne Troops.
"I was in quite a bad way and was immediately sent off to hospital."
Eric, whose brother and First World War veteran father also served in the war, explained how he was eventually demobilised to the Isle of Wight.
He was in very poor health and had "extraordinarily low" body weight which meant he had to be given extra rations.
Unfortunately, this meant that he was unable to re-join the 7th Parachute Regiment (LI) when they deployed to Indonesia.
However, once he regained his strength, he was deployed with the 4th Parachute Regiment and was posted to Egypt.
Eric, who was schooled in Canada, went on to make his career in the Army after the war.
Marrying June in Coventry in September 1946 and raising a family of two, he re-enlisted with the RASC (Royal Army Service Corps) and from there to the Army Fire Service from where he retired at the age of 62.
He reached the rank of Senior Fire Service Officer (army equivalent rank of Lt Colonel).
Moving to Fife more than a decade ago to be near family, Eric, who has three grand-children and four great grand-children, was widowed in 2015 and, despite his advancing years, he still manages to live largely independently – just a short distance from his daughter Lorraine's house.
He wears a couple of hearing aids and admits that when he goes for a walk he now "staggers a bit".
But as he proudly showed off the pictures on his wall including a 7th Battalion Parachute Regiment photograph taken during training in April 1944 – a photograph which includes Captain Richard Todd, a young actor who would nearly two decades later play Major Howard in the film The Longest Day – the nonagenarian has lost none of his spirit.
And he also bears no grudge against the German people – many of whom became his friends when he worked in post-war Germany.
"Nearly all the people who formed the fire stations up and down Germany were nearly all ex-service," he said.
"Quite frankly people didn't bother. This business of hatred carrying on didn't work. We used to mix with the Germans and they with us – no problem at all."
Eric, who is a veteran of several Land's End/John O'Groats walking marathons and an army climb up Kilimanjaro, hasn't parachute jumped since the 1940s.
If it wasn't for his doctor saying 'no' on health grounds, he might have jumped with the Parachute Regiment's parachute display team, the Red Devils in May.
However, when asked what the secret of living a long and healthy life is, his answer is simple.
"I used to be quite a tippler and also a smoker," he smiled.
"I came to the conclusion that this was stupid so I stopped. I carried on with plenty of exercise. I think if people did that they would be a lot better off!"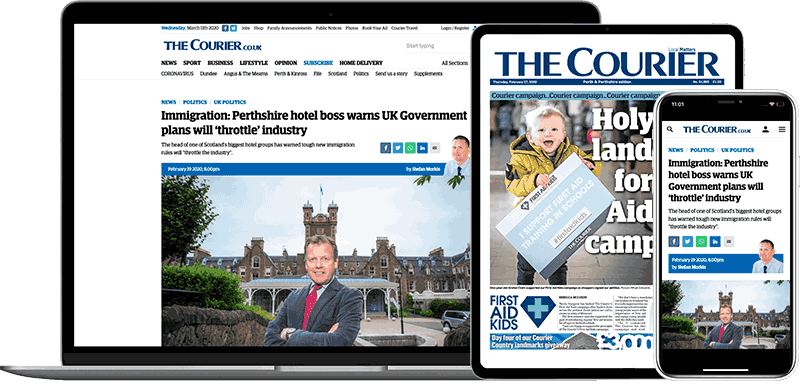 Help support quality local journalism … become a digital subscriber to The Courier
For as little as £5.99 a month you can access all of our content, including Premium articles.
Subscribe