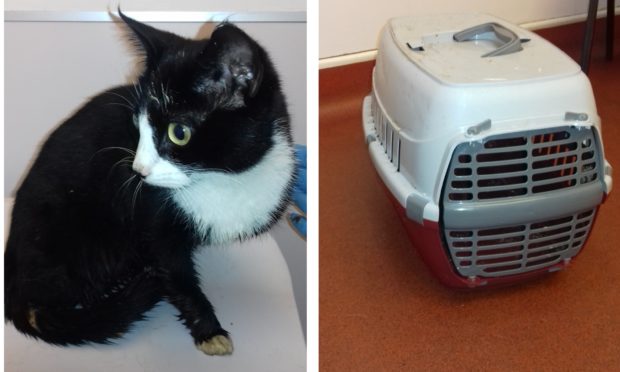 Animal welfare officers are investigating after a cat was cruelly dumped in a bin liner in a Fife layby.
The animal, now named Clover, was lucky to be discovered by a member of the public and is now in the care of the Scottish SPCA.
The animal charity is hunting for the person who abandoned her in a plastic pet carrier then tossed her in the bin bag, and is warning they could face prosecution.
It is not known how long the one-year-old black and white cat was at the layby on the A909 between Burntisland and Cowdenbeath, at the entry to the Cullaloe woods, before she was rescued.
However, she appears to have escaped her ordeal unhurt.
Scottish SPCA inspector Sarah Gregory said: "This little cat is lucky she was discovered by a vigilant member of the public who knew something wasn't right, as she could have easily been missed.
"We are unsure how long she was left outside for and we are keen to find the person responsible for abandoning her in this deliberate and cruel way.
"She doesn't appear to have any signs of injury but was covered in urine and faeces when we found her.
"She is currently being cared for by the staff at our centre in Edinburgh and has been named Clover.
"If anyone in the area recognises her or has any information on who may have abandoned Clover, we would urge you to call our confidential animal helpline on 03000 999 999."
Abandoning an animal is an offence under animal health and welfare legislation and those found guilty can be banned from keeping animals.