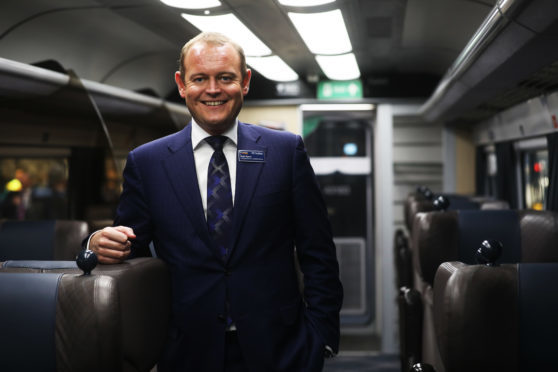 Fed up Fifers have demanded far better train services during a lively public meeting attended by ScotRail Alliance managing director Alex Hynes.
The transport boss bravely faced the music after months of sustained criticism about delayed, cancelled or overcrowded services on the Fife Circle and East Coast lines, with scores of affected passengers taking the chance to vent their frustration at Kirkcaldy Town House last night.
Audience members spoke of sudden cancellations, lengthy delays, stop skipping and a dearth of carriages on busy services between Fife and Edinburgh, all the time while people have been subject to fare hikes.
Concerns were also raised about safety on certain services where standing room only has become something of the norm.
And there more than just a smidgeon of irony when it emerged that one of the busiest trains from Edinburgh to Fife, the 1716 service, had been cancelled due to a shortage of train crew – just hours before the meeting began.
"We've let you down and we are very sorry," Mr Hynes told the assembled crowd.
"When it doesn't work we inconvenience people's lives and we understand the strength of feeling in the room.
"The standard of service has fallen way beneath the standard we aim to provide. We have a solution and it's our job to fix it as fast as we can.
"But Fife will get a better train service because we will lengthen the trains both in the peak and the off peak.
"It will have a massive impact and I can't deliver that too soon for you. We will deliver."
Mr Hynes said the problems experienced in November, December and January were largely caused by the late delivery of rolling stock from Hitachi, an overtime ban which has now been resolved, and a backlog in training staff on the new trains, although he said that should be dealt by the end of next month.
And he added that existing Class 170 trains will be redeployed to routes in Fife and the Borders once the new Class 385 and Inter7City trains are in service.
That, he says, will mean more peak trains formed of six carriages and off peak generally consisting of three carriages, although he admitted he could not give a "cast iron" guarantee on when the new trains will come on stream.
He believes May will see longer trains on off peak services, but it could be the end of the year before more carriages are on peak services.
However, Mr Hynes was left in no doubt about how Fifers feel about the subject.
Locals of all ages complained about various issues, from sudden cancellations and Fifers being short changed compared with other areas to health and safety issues and people being "herded" on to already full trains.
"Trains are packed to the gunnels but at the same time you are boasting about the great new trains on the Edinbirgh to Glasgow lines," one woman said.
"It makes us feel like we're forgotten about."
Another said services were "potentially dangerous" because of overcrowding, while another female audience member said it was "completely unacceptable" for people to find themselves so close to strangers.
"You come nose to nose with a gentleman's zip, you get people's hands in God knows where…." she added.
Mr Hynes said improving Fife services is at the top of the Alliance's agenda, adding: "We spend a lot of time making sure that our network is safe and accessible."
However, he stressed that the independent safety regulator has not set guidelines on the maximum number of passengers allowed per carriage.
Pricing was another major bugbear, with many local people bemoaning the "monopoly" ScotRail currently has because the train is the only feasible option for many.
One woman said it was "galling" to pay over the odds, and said many are forced to stand having paid full price for a ticket.
She added: "I want to be able to get a seat – I don't want to fall out with other commuters fighting for seats. It's turning people into animals."
Mr Hynes said it was his belief the fares and ticketing system in Scotland is outdated and said the way fares are regulated is "quite old fashioned", although he stressed that fares are set by the Scottish Government.
Asked if he had the power to lower fares, he noted: "Our business plan is based on the assumptions made about fare increases. In exceptional circumstances we have the ability to provide additional compensation."
Mr Hynes added that ScotRail has banned stop skipping "except as a last resort", adding that cancellations were down 80% on what they were over the Christmas period.
Kirkcaldy and Cowdenbeath MP Lesley Laird, who organised the meeting, concluded: "I think it's fair to say we've probably got more questions than answers.
"There's a number of key points about health and safety, the delivery plan for when the services will improve, the fares we pay and what can be done to address that now.
"So I will be pressing these points, in terms of the immediate issues which can be addressed, because the time for talking has passed. Now's the time for action."
---
As it happened: Last night's meeting