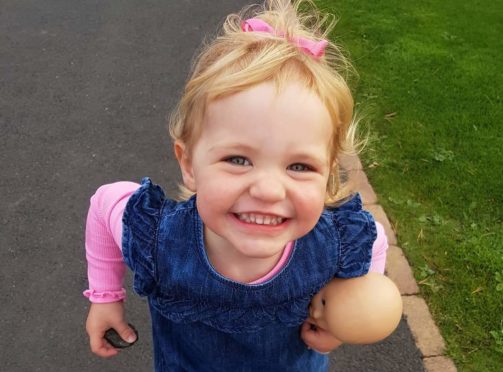 A Kirkcaldy toddler who lost her life to cancer is to be honoured by dozens of runners who will lace up in her memory.
Two-year-old Megan Clarkson died on January 2, only three weeks after her diagnosis with a rare form of lung cancer.
Neighbour Gilly Eason has embarked on a mission to complete 10 park runs in 10 weeks.
For her finale on March 23 she will be flanked in the Beveridge Park 5k by fellow members of Kirkcaldy Wizards running club, all wearing t-shirts with Megan's picture.
Dental nurse Gilly has already raised almost £700 for Ronald McDonald House, in Glasgow, where Megan's parents Kelly and Martyn stayed during the final days of her life.
The mother-of-two said: "Megan's illness progressed so quickly. There were just 21 days from her diagnosis to her not being here.
"I felt useless, there was nothing I could say to make Kelly feel better, so I thought I could do parkrun to raise money."
Kelly and Martyn, who have a son Myles, 5, are also fundraising in Megan's name, having launched the Megan's Journey campaign, with more than £7,000 raised already.
Another friend Elaine Leitch is running and walking 1,070 km over the course of a year — a kilometre for every day of Megan's life.
Kelly said it was amazing to see people's efforts in memory of Megan.
She said: "The only thing we can take comfort from right now is just how well everyone has responded, all the little things people are doing, on top of what Gilly and Elaine are doing."
Megan's first symptom of illness was when she developed a bad cough in September 2016. She also began lose weight and showed signs of breathing difficulties.
She was repeatedly taken to her GP surgery over a two year period, but her family was told she had an upper respiratory tract infection and then that she may have asthma.
In December Megan's condition deteriorated and she was taken to the Royal Hospital for Sick Children in Edinburgh where an x-ray showed 'white out' lung.
The youngster was diagnosed with type three pleurpulmonary blastoma, a rare and aggressive form of lung cancer in children.
She was transferred to the Royal Hospital for Sick Children in Glasgow and an operation was performed to remove her right lung.
However, Megan suffered a massive bleed and cardiac arrest and died just after midnight on January 2.
Kelly has set up a Just Giving page to collect donations in Megan's memory.