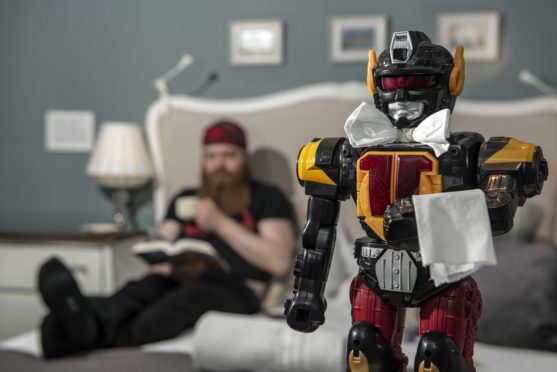 Flying taxis in the skies above Leuchars, and trips around Culross with a 7D character from Outlander.
They are just two of the treats which could be in store for Scotland's tourists – in the year 2069.
The futuristic visitor attractions might line up beside robot butlers and Scotland's new national dish, midge haggis.
The tongue in cheek ideas of how tourists of the future might be tempted to stay in Scotland has been prompted by the 50th anniversary of VisitScotland.
To celebrate, the national tourism organisation has taken a lighthearted look forward into 2069.
A new research paper, Tourism Futures 2069, explains rural areas could be protected from over development but still benefit from better transport and digital connectivity.
There would be a vibrant country environment for artisans, creatives, farmers and distillers. Hotels might introduce robot butlers while in-room fitness bikes mean guests could exercise while boosting the building's sustainable energy stores.
Or how about Edinburgh and Glasgow merging to become Glas-burgh or Edin-gow?
A potential launch of Boeing's Hypersonic airliners in the 2040s could lead to flights from New York to Scotland taking just two hours.
But more leisurely air travel could come in the shape of dirigible balloons.
However, they might have to compete for airspace with flying taxis and rockets taking off from space ports at Leuchars, Prestwick or Lossiemouth.
And while Scotland's larder might still be offering up tempting fare, those looking for more protein might want to try the new delicacy – haggis made from midges.
VisitScotland's latest campaign could be marking the 55th anniversary of Outlander.
And villages like Culross might be populated with 7D holographic characters from the show and allow fans to immerse themselves in an episode.
Tourism has gone from strength to strength over the last half century, and the next could also yield a wealth of opportunity.
VisitScotland senior tourism insight manager Chris Greenwood said: "Scottish tourism has been a huge success story both economically and socially over the last 50 years and the aim of this research paper is to look at a potential future of tourism by examining the megatrends which may have influenced society by 2069."
VisitScotland chairman Lord Thurso added: "Tourism is one of Scotland's most important industries.
"It has been creating jobs and sustaining communities for decades, contributing billions to the Scottish economy."
Its achievements were down to the hard work and creative collaboration.
"This 50th anniversary not only allows us all to reflect fondly on the past but also, importantly, to concentrate our gaze on the future."