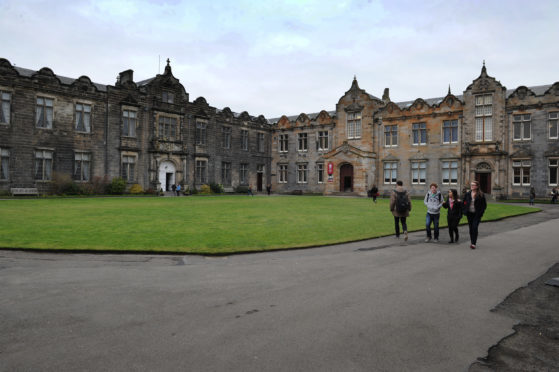 Three leading St Andrews academics have been recognised by the Royal Society of Edinburgh.
Philosopher Professor James Harris, geneticist Dr Silvia Paracchini and medieval manuscripts expert Professor Kate Rudy join principal and vice-chancellor Professor Sally Mapstone as new fellows of the society.
V&A Dundee director Philip Long has also been recognised.
Professor Harris is the university's head of philosophy, while Dr Paracchini is a Royal Society research fellow and Prof Rudy a member of the school of art history.
The Royal Society of Edinburgh is a leading educational charity which operates on an independent and non-party political basis to provide public benefit throughout Scotland.
It has announced 62 new fellows from the worlds of education, business, science, creative arts, health, technology, law, public engagement and international development.
They join an existing group of more than 1,600 people who give their time and expertise free of charge to support the RSE in delivering its mission of 'knowledge made useful'.
Fellows help the RSE to continue to provide independent and expert advice to policymakers, support aspiring entrepreneurs, develop research capacity and leadership, inspire and facilitate learning, and engage with the public through inspiring events.
RSE president, Professor Dame Anne Glover, said: "The calibre of our fellows never ceases to amaze me and this year is no different.
"All of our fellows are assets, not just to the RSE but to Scotland and the rest of the world, and I look forward to welcoming and working with them."
The new fellows will be inducted in May.