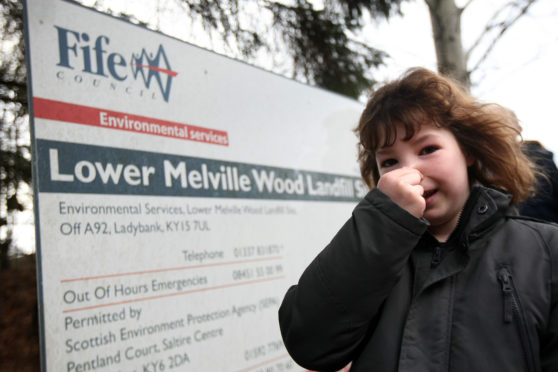 More action has been demanded to banish a smell getting up neighbours' noses for years.
The Melville pong emanates from a landfill site near Ladybank and, at its height, was so bad people in nearby villages were reluctant to open windows or use their gardens.
North East Fife MP Stephen Gethins said more needed to be done to tackle the nuisance from Lower Melville Wood landfill which is blighting people's lives in the Howe of Fife.
Efforts by Fife Resource Solutions have failed to banish the odours but the Fife Council company said further works were being progressed urgently.
Environment agency Sepa previously confirmed the operator had breached its site permit through compliance failures.
Mr Gethins said: "In 2016 the smell from the site was so bad people contacted me saying they couldn't even open their windows or go out in their gardens.
"At the time the site's compliance record was downgraded to 'poor' and SEPA warned operators could face losing their licence.
"Since then I know a lot of work has been undertaken to cap cells to limit the gas from leachate chambers which causes the smell. While I welcome this, it is clear more needs to be done.
"The site's role in processing and recycling waste is very important but something must be done to address the odour issue properly.
"The smell continues to be very noticeable and unpleasant especially for people in the surrounding villages of Collessie, Letham and Ladybank and this just isn't acceptable."
The smell is reportedly most offensive during cold, still weather conditions.
Robin Baird, chief operating officer at Fife Resource Solutions, said: "Work continues at Lower Melville Woods in order to prevent odours.
"An additional 17 gas wells – that capture the gas that cause odour – are set to be installed to help address any issues.
"These works are being brought forward as a matter of urgency. Once complete this should significantly reduce unpleasant odours escaping.
"We are currently also placing sub-soils on top of the waste to help prevent odours. We continue to work in partnership with Sepa."