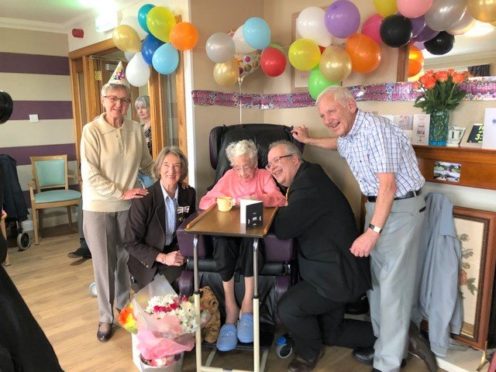 Isabella Crowe has celebrated her 101st birthday surrounded by friends and family after centenary celebrations were blown off course last year.
Heavy snow from the so-called Beast from the East battered Tayside last February, causing travel chaos for many, including Isabella's relatives, who were not able to make it to Craighead Care Home in Newport to join her on the milestone.
This year's considerably milder weather brought with it better fortunes for Isabella and her family.
Her son Bob Crowe, 76, said: "We couldn't get along last year because of the snow. We were advised not to travel, so there was nothing we could do about it."
Isabella did at least get her telegraph from the Queen, thanks to Tay Bridgehead  councillor Jonny Tepp, who struggled through the weather to get it to her.
Even though the family managed to hold a small party for her after Arctic blast finally ended last year, they were determined to make up for it this year.
Everything went to plan on Friday, with about half a dozen family members making it to the care home for a party. Among them were Bob and daughter-in-law Ann.
Bob said: "We had a great time. She was alert the whole time, which was great. It was good to see her on the day this year after missing it last year.
"There was a lot of people here through the day to see her."
Friend and accordionist Billy Anderson provided music, something he has done for the last five years — albeit a few days late in 2018.
Mr Tepp was there again, this time presenting a gift voucher on behalf of Fife Council, as was depute lieutenant Evelyn Crombie, representing the Fife Lieutenancy.
Speaking on Isabella's behalf, Bob said her secret to a long life was her abstention from cigarettes and alcohol — although she used to enjoy the odd sherry at new year.
Isabella grew up near Kirriemuir before moving to Strathkinness with husband Alexander in her 20s.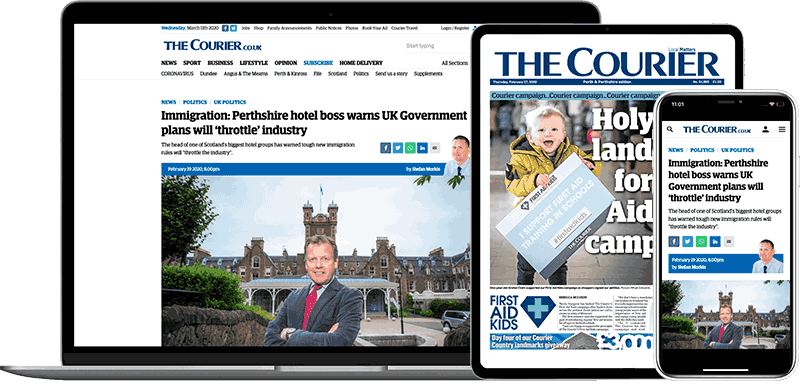 Help support quality local journalism … become a digital subscriber to The Courier
For as little as £5.99 a month you can access all of our content, including Premium articles.
Subscribe