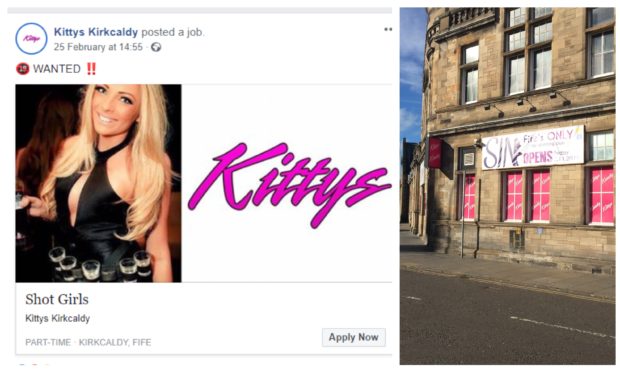 A nightclub's recruitment advert for "shot girls" has been reported to the UK's regulatory body for equality.
Kittys, in Kirkcaldy, appealed on social media for new waitresses, with a photograph of a young woman in a cleavage-slashed outfit.
Women's group Women Together in Fife said the advert was demeaning and could contravene sex discrimination laws.
It has asked the Equality and Human Rights Commission to investigate, and the watchdog said it would contact the club.
Kittys owner, Mario Cairo, declined to comment.
It is the second time he has come under fire from the Kirkcaldy-based group, which protested against the opening of his Sin lap-dancing club above Kittys in November last year.
Marie Penman, co-founder of the women's group, said she was shocked to the see job advert.
She said: "It's sexist, discriminatory and insulting to women.
"I know the owner of Kittys also owns Sin, Kirkcaldy's only strip bar, and that he makes a big deal about employing both male and female dancers in his lap-dancing club.
"As being gender-balanced is obviously important to him, I'm not sure why he only wants shot girls and not shot boys."
'We are doing nothing wrong': Dancers stage counter-protest at demonstration against Fife strip club
She also questioned the reference to girls in the advert, when recruits, who would sell shots of alcohol around the club, were required to be over 18 years old.
The advert, which appears to have been removed, was spotted by group member Elaine Miller.
She said: "My first thought was that the advert was demeaning and quite smutty, but when I realised it might be breaking sex discrimination laws, I brought it up at our most recent WTF meeting."
Under the Equality Act 2010, adverts that restrict jobs to people with particular protected characteristics, such as to men or women to a particular age group, are unlawful except in very limited circumstances.
Lynn Welsh, head of legal at the Equality and Human Rights Commission Scotland, said: "Discriminatory advertisements are unlawful, so employers can be held liable for putting unreasonable restrictions on who can apply.
"If an employer wants to restrict a job to only men or women or to people of a certain age they need to establish that being of that sex or age is an 'occupational qualification' for the job, and that they have an objective justification for the restriction.
"We will be in touch with the owners to discuss this."