Divers launched from Fife in an attempt to rescue an entangled whale.
A vessel was scrambled from Kinghorn on Friday by a crew of the British Divers Marine Life Rescue.
However, when the team reached the humpback whale which had been spotted near Inchkeith island on Friday morning it was the wrong one.
The organisation has renewed its appeal for mariners and people onshore to look out for the mammal, which has become wound up in a creel pot buoy.
The entangled whale is all white under its fluke, or tail, and is towing the buoy behind it.
BDMLR area coordinator Paul Smith said the team would remain on standby and conduct regular launches until the whale can be released, but he said the perilous rescue could take several weeks.
Regular sightings from Kinghorn and elsewhere along the Fife coast of two humpback whales, thought to be a mother and calf, have been reported since late February.
Joy at the return of the species to the Forth was dampened by news last week that one of the giant creatures was entangled, which can prove fatal.
Mr Smith told The Courier: "We had a whale sighting this morning and we went out in the boat, possibly to perform a rescue.
"We have now positively identified that there are two different humpback whales out the but the one we wanted wasn't the one we saw today.
"The one that is entangled has an all-white fluke. What we need is for people to keep looking.
"This operation for us is probably going to continue for weeks. We will be shore-watching and launching the boat every now and again.
"As long as the animals are here we will continue."
Humpback whales, which grow to over 40ft in length, have become regular visitors to the Forth in the early months of the year.
Sightings can be reported to the BDMLR by calling 01825 765546.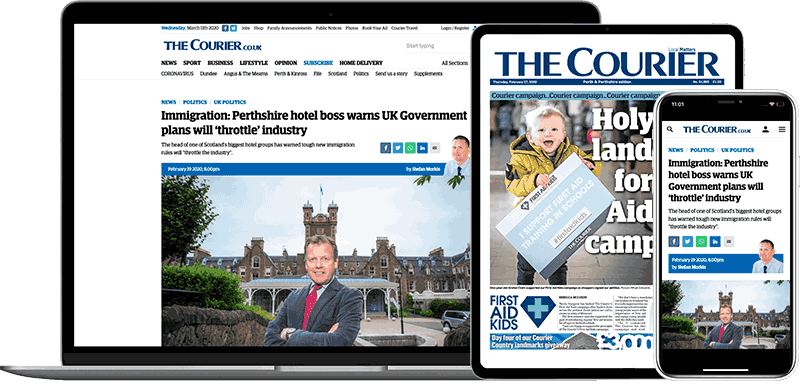 Help support quality local journalism … become a digital subscriber to The Courier
For as little as £5.99 a month you can access all of our content, including Premium articles.
Subscribe