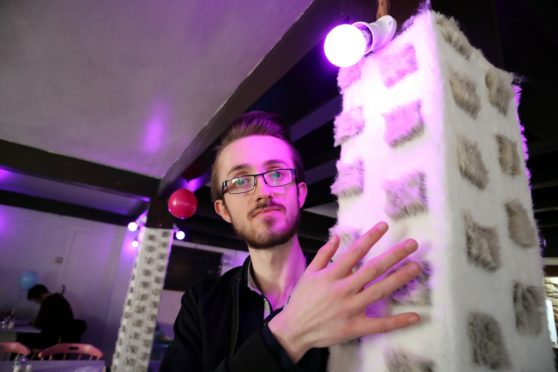 An autism-friendly restaurant has opened its doors in Kirkcaldy, aiming to break down barriers for families of children on the spectrum.
Those behind Sensoriale believe the social enterprise is the first dedicated sensory-adapted restaurant of its kind in the UK.
The Kirk Wynd premises, which are open to all, have been fitted with colour-changing lights, textured panels and a chill-out zone with bean bags.
Autism causes people to see, hear and experience the world in a different way. It can cause over or under sensitivity to sound, light, colour and other things, and exposure to these can cause sensory overload and distress.
To address this, efforts have been made to reduce noise and smell, such as blocking off the kitchen and removing electric hand-driers.
Food can be served on sectioned plates and fiddle toys and earphones are available on tables.
It is also intended to introduce private booths with customer-controlled lighting.
The restaurant opened on Saturday in the former Pancake Place unit, which closed in December, and is the brainchild of Mel Lingwood and her son Owen Hardstaff, who has autism.
Trainee deputy manager Bradley Ramsay said eating out can be difficult for many people.
He said: "For people who are on the spectrum, families feel they are going to be judged when they go out.
"It stops them going out to eat or going out for birthdays or parties.
"In some restaurants, people don't know how to deal with this but here we know exactly what to do."
Chef Michael Cummins, formerly of the West Wemyss Bistro, stressed that the non-judgemental restaurant was open to all and suitable for people with various disabilities.
He said: "We can cater for everyone's needs, not just those on the autism spectrum."
He also said a wide menu was offered and kitchen staff aimed to be flexible.
"If you want chips and ice-cream, you can have chips and ice-cream."
The restaurant also offers employment opportunities for people on the spectrum and aims to educate other local businesses in becoming autism-friendly.
A previous bid to open the eaterie elsewhere in Kirkcaldy High Street fell through.
Kirkcaldy MSP David Torrance cut the ribbon for the venture at its grand opening on Saturday.