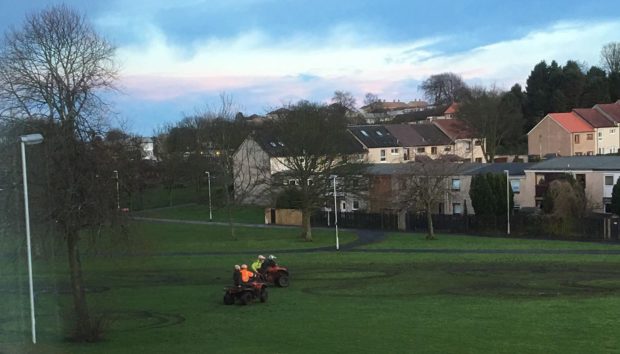 Fears have been raised that it is only a matter of time before someone is seriously hurt or killed by reckless bikers motoring through parts of Kirkcaldy.
Residents have noticed a huge rise in the number of quad and off-road bikes being ridden illegally in the town and have urged authorities to clamp down on the practice before tragedy strikes.
Reports have suggested bikers have been taking to stretches of land which are well-used by dog walkers, local youngsters, and families walking with buggies and toddlers.
The scourge appears to be growing, particularly in the north of the town, with complaints about bike-related anti-social behaviour soaring along Chapel Level, Broom Road, Rabbit Braes and on routes around Torbain Primary School.
The Courier has obtained pictures of irresponsible quad-bike users churning up huge swathes of grass on public ground between Chapelhill and the West Torbain area at the weekend, while patches of grass at Harris Drive – less than a mile away – were also destroyed.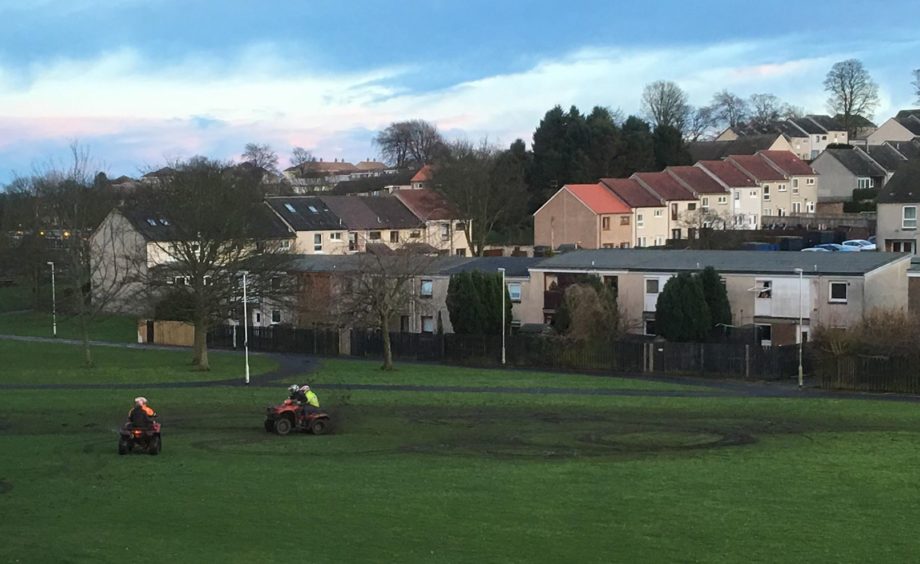 One concerned Chapelhill resident, who did not want to be named, pointed out the paths in the area were always used by local people going to Torbain Primary or local shops and fears something bad will happen sooner rather than later.
"It's really concerning because my kids and others regularly play on that grass, and it's a frequently used path for dog walkers and those walking to the Fife Central Retail Park.
"They were spinning and had no control – if someone was to have come out walking from West Torbain then they could easily have been killed.
"I also saw a pedestrian walking from the direction of Torbain Primary School with a young child and they were forced to turn back.
"They (the bikers) clearly just think they can do what they want as they are untraceable."
A number of similar reports have been made to police and other agencies in recent weeks and there are worries the problem could escalate further as the lighter nights approach.
Chief Inspector Tom Brown, from Kirkcaldy Police Station, said: "This is not solely a policing problem and our partners and the community have role to play to deter and disrupt this sort of anti-social behaviour.
"Officers can employ a range of tactics to ensure those involved are identified as soon as possible, including working with colleagues in Safer Communities to carry out patrols in areas highlighted as places of concern, along with using open space CCTV to monitor areas identified by the public.
"We'd urge anyone with concerns or information about criminality in their area to report this to us via 101."