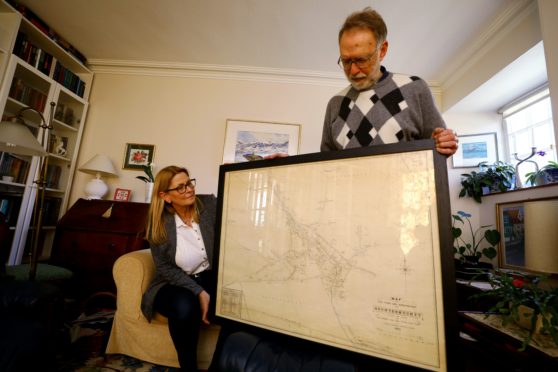 A curiously detailed map has managed to find its way home, more than a century after it was carefully crafted.
Now a replica of the painstakingly detailed piece of Auchtermuchty history is once again displayed in the town.
While it may shed new light on a bygone time, it has also been shrouded in mystery.
A framed copy of the map, originally produced in 1883 by Dundee architect George Jamieson, has just been unveiled in Auchtermuchty Library.
But behind it lies months of detective work kick-started by a wife's gift to her husband.
The original map was purchased some years ago for around £50 by village resident Toril Imrie in an antiques shop in Cupar as a present for Brian's birthday.
Intriguingly the "map of the town and surroundings of Auchtermuchty" gives the dates of local houses "that have dates upon them".
Toril said: "We lived in Norway at the time and had just bought the house we live in now when I saw the map."
"I thought it looked quite interesting and our house was in it, although it doesn't have a date stone."
Early last year she mentioned the map to members of Muchty Heritage thinking it might be of interest.
It was so intriguing that it became the theme upon which the group based its next exhibition.
Brian Slattery, a founder member of Muchty Heritage said: "This is a fantastic document and every time you look at it you see something new.
"It has also sparked further investigation into its provenance and into the family history of George Jamieson himself."
The document shows an enormous amount of detail, even down to lampposts, summer houses and telegraph lines, as well as individual houses' date stones.
Mr Slattery added: "The main purpose of the project seems to have been to identify the 66 houses 'that have dates upon them' and where exactly one should look to find these date stones."
It became clear very early on in the team's investigation the map might be a one-off and raised a lot of questions such as why a Dundee architect would be so interested in the small Fife village?
The detective work started and the building blocks of George Jamieson's life were put in place.
He was born in 1862 to parents George and Isabella in Dundee.
By 1871 the family was living in a tenement in Ellen Street and George senior was working as a mill and factory time keeper.
Digging deeper, the team found the family had close ties with Auchtermuchty.
Both of George's parents were born and lived there before moving to Dundee, presumably for better work prospects.
On his paternal side, his family were weavers but a relative had a chemist shop at the foot of Kilnheugh, providing one link to the Fife town.
According to the Scottish Architects website, young George was articled to Alexander Hutcheson of Dundee from 1875 to 1879, remaining there until 1881.
He then spent four years in the office of James Maclaren before becoming chief assistant to Alexander McCulloch, who took him into partnership in 1894.
Away from the drawing board, he was a loyal servant to Tay Square Church in Dundee, performing as session clerk and superintendent and organist of the Sunday School.
He died in 1939 at the age of 76.
But why a map? And of Auchtermuchty? The team do not have an answer to this yet.
As a young man of 21 who had not completed his training, it may have been a project counting towards his qualification.
Mr Slattery said: "This copy, now on public display, will create a lot of interest and the fact that it is there in the library shows great collaboration between the ONFife Cultural Trust and Muchty Heritage, a partnership which will continue to grow as information is shared and exchanged."
With the "who" and the "why" (partially) explained, attention turned to the "where" —where had it been and how did it come home.
While no one knows where the map was housed for its first 50 years, an article already in the heritage group's possession threw up a snippet of information.
Early in 1934 the Rev James Bell, the minister of the South United Free Church on Burnside, wrote a series of articles in the Fife News chronicling reminiscences of the burgh a half century before.
That included a piece on a presentation to the Town Council of Auchtermuchty of a map as the town had existed in 1883.
Entitled "Handsome gift from native" it described the map as an "interesting and excellently executed specimen of the topographer's art".
It was given to the town by Thomas Jamieson, a first cousin of George.
Then it popped up again during the seventies and eighties – Ted White of John White & Son (Weighing Machines) Limited remembers seeing it hanging in a Cupar solicitor's office.
In the twenties and thirties the town clerk was one Alfred E Grosset and his obituary, in a DC Thomson newspaper, explained he had been in post for 20 years.
He was also a senior partner in the firm of Messrs Drummond, Johnstone & Grosset in Crossgate, Cupar.
Perhaps during an office refurbishment the original ended up in an antiques shop and from there, it finally found its way home.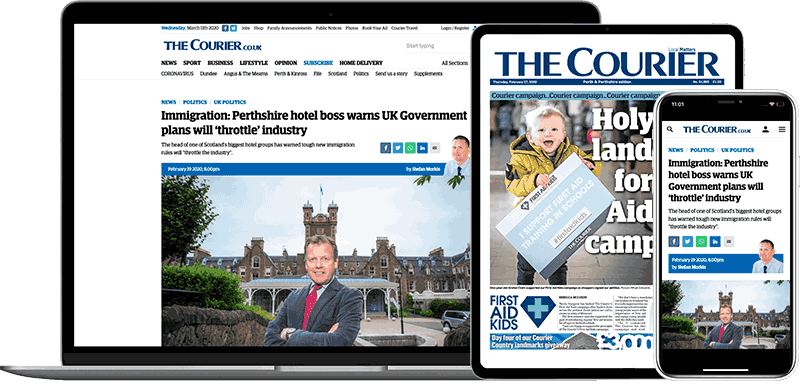 Help support quality local journalism … become a digital subscriber to The Courier
For as little as £5.99 a month you can access all of our content, including Premium articles.
Subscribe