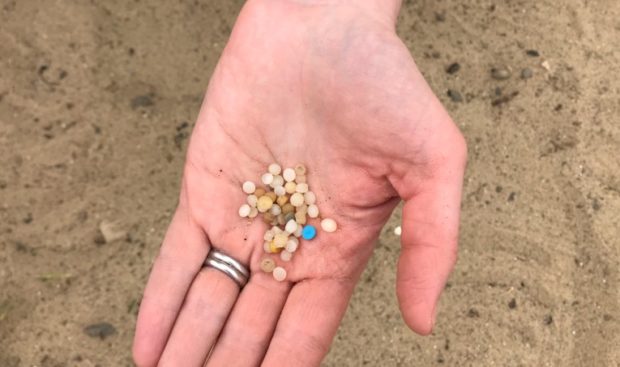 Action, not talk, is needed to tackle the growing problem of plastic pollution on beaches.
North East Fife MSP Willie Rennie has pressed the Scottish Government on exactly what it is doing to address the worsening situation in Forth estuary.
Hundreds of thousands of plastic nurdles are regularly being washed up along stretches of local coastline. It has been identified as a particular problem at North Queensferry and now at Ruby Bay near Elie.
The concerns have prompted Scottish Liberal Democrat leader Mr Rennie to ask ministers to consider legislation to address nurdle pollution properly.
He said: "We are lucky to have several beautiful beaches here in Fife, but unfortunately some of them are being spoilt by plastic nurdle pollution.
"This is a serious issue that needs urgent attention from government. The minister for rural affairs and the natural environment explained how she is taking part in a steering group that is looking into the problem.
"We can't afford to let time slide while there's just talk and no tangible process."
Mr Rennie said he was disappointed to hear Mairi Gougeon, the minister for rural affairs and the natural environment, suggest legislation was a last resort for her, and pledged to keep the pressure up to achieve positive results for coastal communities.
"The environment in Fife and Scotland continues to suffer the longer they take to address nurdle pollution," he added.
Ms Gougeon said the problem was not just about the plastic industry, stressing that issues around the supply chains are "complex".
"I would rather look at, and exhaust, all those options before we consider further action," she explained.
"I have mentioned operation clean sweep, which is a plastics industry-led initiative that is rapidly being adopted by industry members.
"We also have a pre-production plastic pellets steering group, which has a membership that includes Ineos, PlasticsEurope, the British Plastics Federation, the Road Haulage Association and the Scottish Plastics and Rubber Association.
"With the work that the steering group will undertake, we can start to have an impact on the problem.
"I will also mention the fantastic work of Fidra and of the Marine Conservation Society, through its great nurdle hunt, which is raising awareness of this important issue."
Ms Gougeon also noted that the Scottish Government committed to co-operative working with other British-Irish council administrations to further reduce the loss of pre-production plastics across the supply chain at a marine litter symposium in February.