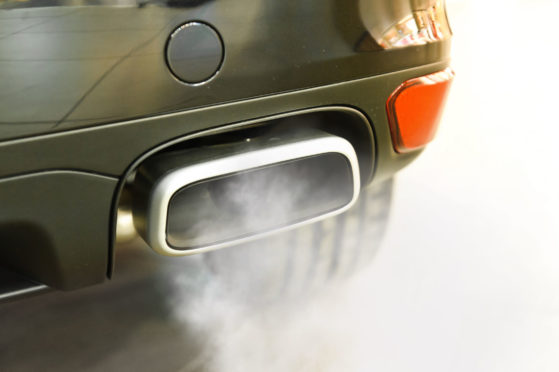 Fixed penalty notices for motorists who leave engines idling have been ruled out in Fife.
Local authorities have the power to fine drivers who leave their engine running while parked.
Liberal Democrat councillors pressed for Fife Council to use the power, stating pollution from idling engines was a particular problem outside schools and where lorries unload.
However, Fife Council said there would be a financial cost to enforcement.
It also highlighted government guidance issued when engine idling was outlawed in 2003, which stated it was acceptable in some circumstances, for example to allow taxi drivers to keep warm.
Labour co-leader David Ross said imposing a "punitive regime" was not the right way to deal with the problem.
Liberal Democrat councillor for Dunfermline South James Calder had called for urgent consideration of issuing on-the-spot fines.
He said: "Engine emissions are a public health issue.
"At schools some parents and families leave their car engines idling when dropping off children.
"We must all agree that it is imperative to protect our future and that includes the health of our young people.
"Those who live around schools are also disproportionately affected.
"In the wider area, particularly in areas where businesses are operating, there are often issues with lorries and vans idling.
"Pollution across Fife would be reduced if we reduced vehicle idling."
St Andrews Liberal Democrat councillor Jane Ann Liston said Bell Street, in St Andrews, which has a taxi rank, had once been referred to as a canyon of death due to pollution.
She said: "This is one example, I'm sure there are several others in Fife.
"Fife really should use these powers which they have got to make the very air we breathe safe for us to inhale."
SNP co-leader David Alexander said resources would need to be found to police the problem and hit out at the Lib Dems, saying: "It's easy to keep asking, asking without saying where the money is going to come from."
Mr Ross said pollution from idling engines was a real issue but punishing people was not the right way to deal with it.
He said: "I know that officers, where there are particular issues, are prepared to go out and work with, for instance, taxi drivers, to address the issue in the way it should be.
"There would resource implications to this. It's not necessarily the best way to deal with this."
Conservative councillor Gavin Ellis, an environment officer with the City of Edinburgh Council, said he had never encountered a driver in his line of work who had refused to turn off their engine.