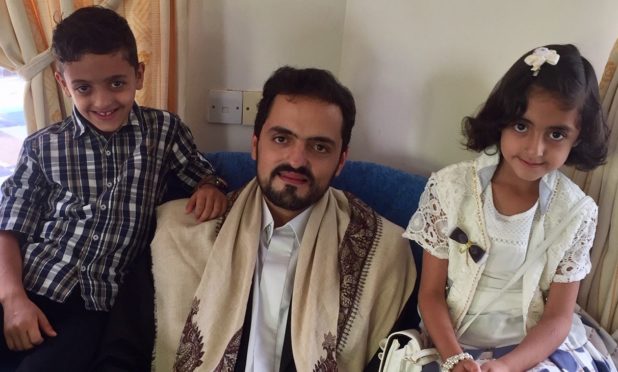 A Cupar dad has travelled to Sudan to be reunited with his wife and two children after more than 18 months apart.
Adam Alakil will meet his loved ones in the capital city of Khartoum this week after they fled their war-torn home in Yemen.
The Falkirk-born 29-year-old and his two children, Hashem, 9, and Tasnim, 7, have British passports.
His wife, Hadeel, 25, who has Yemeni passport, has been told she must travel to Sudan to pass an English test before she can obtain a spousal visa for the UK.
Mr Alakil, a Kettle Produce worker, has told how this is the family's "last chance" to find a safe home away from conflict.
He said: "We've already paid for the NHS immigration health surcharge but we've not yet paid the visa fee because that needs to be done at the centre in Sudan.
"We have to put in the application now because we have to book a date for her to take the test as soon as possible.
"They don't have a priority service in Sudan so that's one of the main concerns. We don't know how long we will have to stay there.
Fife father of two faces perilous journey to rescue family from war torn Yemen
"The priority service takes up to 30 working days and the non-priority takes up to 60 working days – that's almost three months.
"I've only got six weeks off work and that's what I'm really concerned about. We will literally be out on the streets if we stay in Sudan for over a month and half.
"I have exactly £2300 in my pocket. £1600 is going towards the visa fee, £400 is for one month's rent and the rest is for food money. That's all that I have in the world.
"I have six weeks of paid leave from work which will pay for the tickets for us to come back here. This is our last chance.
"I know I shouldn't keep thinking the worst but being a father who is responsible for a wife and two children, you have to plan for the worst and just hope for the best."
The Fife resident is also concerned about the worsening conflict in Khartoum, which has been the scene of violent political protests in recent months.
He said: "The way the situation is in Sudan now is really worrying. I don't want to bring them out of a war into another country that's very vulnerable right now for a civil war starting.
"It's not like in Yemen where we would know how to find somewhere to hide if need be but we don't know anyone at all in Sudan.
"We had a life in Yemen. We had a massive house, friends and family. It was never really a plan for us to actually come to Scotland until the problems there broke out.
"But the situation in Yemen is completely out of our control and this is the only choice we had."
The family has received the backing of North East Fife SNP MP Stephen Gethins who has urged the UK government to help the Alakil's.
He said: "Mr Alakil has a home and a job in Cupar. He can offer his family a place of safety.
"Instead, in another attempt to safeguard his family's future he will travel to Sudan and face an anxious wait for his wife's visa.
"The situation in Yemen is so bad she cannot do it there or in any country nearby. I know this journey is a source of great worry to him and it is completely avoidable.
"The UK Government must step up and put the lives of innocent children before hostile policies designed to reduce immigration."
A Home Office spokesperson said: "We cannot predict the outcome of an application before it is submitted.
"However, any application received by the Home Office will be assessed on its merits and any evidence of exceptional circumstances will be taken into account."