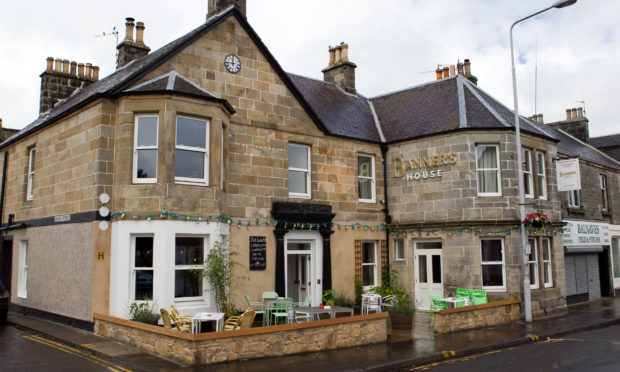 A hotel and restaurant in the heart of Fife at the centre of a dispute over wages has been ordered to pay a number of staff what they are entitled to.
Kitchen and front-of-house staff at Banner's House in Markinch walked out at the end of last year after not being paid, with ex-employees claiming they were due £8,020 in unpaid wages and thousands more in unpaid holidays.
Members of Unite the Union subsequently took their cases to tribunal, and an employment judge has now ordered owner Kevin Penman to pay the full amount owed to workers.
Markinch Limited, of which Mr Penman is registered as a director, has not responded to the workers' claims during court proceedings and has not commented on the outcome of the tribunal.
In the only response from Banner's House received by the The Courier, the company said difficult trading conditions had made it necessary to streamline the business, adding: "This has regrettably led to one or two issues that are currently being resolved."
News of the tribunal victory has, nevertheless, been warmly welcomed by former staff who just want to move on from a difficult few months.
Former Banner's employee Linda Hutchison, 36, said: "As far as I know, a few of us have had our letters just to say that we've won our cases.
"All our holiday pay has been granted and our wages have been granted. I'm actually getting more money than I actually thought I was going to get but nothing has been paid yet.
"He's still not responding so it's good news but at the same time we're no further forward.
"It's been really hard. When I worked at Banner's, I was really happy there. So the fact that I had to leave when I didn't really want to, was quite devastating.
"But now I've got a new job, I kind of just want this chapter of my life to be over and done with."
Bryan Simpson, Unite Hospitality organiser, said the union supported workers to take direct action against their former employer just before Christmas and is happy with the outcome.
"We are pleased that the tribunal court has made the right decision and ordered Mr Penman to pay his former staff what they are due," he said.
"However, workers should not have to wait months to be be paid, to be left destitute over Christmas.
"These workers have sent a message to employers across Fife that if they fail to treat workers fairly, they will face the consequences both legally and financially with a boycott campaign of those venues which exploit their workers."