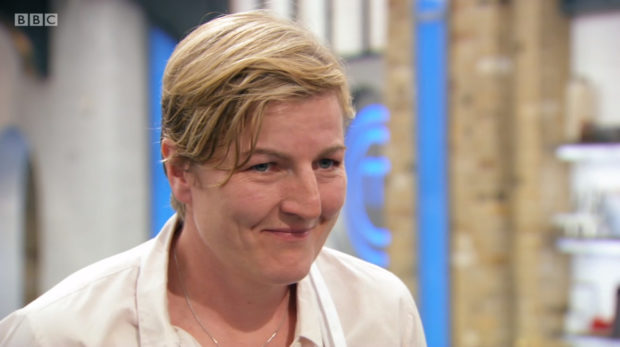 History teacher Jilly McCord has earned her own place in the history books by reaching the final eight in BBC MasterChef.
The Dollar Academy teacher will be seen competing in the last round of the semi-finals in Friday evening's episode for place in finals week.
As she learned she had survived the heat of the kitchen once more, Jilly, 41, of Cramond, said: "I'm delighted.
"We are down to the final eight. You are kind of happy but at the same time you just think 'what's next?'"
Excited boarding pupils gathered to watch their teacher, a former Scottish women's rugby internationalist, in Wednesday's episode while day pupils watched at home with their families.
Jilly, who lived in Inverkeithing, Fife, when the series was filmed, and eight other amateur cooks prepared a three-course dinner for 80 guests at Glyndebourne opera house, in Sussex.
In the red team, Jilly and two fellow contestants served the main dish, a roasted saddle of lamb with lamb faggot, fondant potato topped with a black olive tapenade, with pumpkin puree, peas and broad beans and a lamb jus.
They then returned to the MasterChef kitchen to turn scraps into stunning dishes under the watch of presenters John Torode and Gregg Wallace.
Jilly transformed a cod's head, scallops and salmon bones into a much more appealing trio of starters comprising a scallop and salmon raviole, a scallop served in its shell topped with bechamel sauce, parsley and breadcrumb and pan fried cod's cheek with caper and roasted cauliflower puree.
Torode described her as a fighter who "goes from strength to strength".
On Friday contestants will create a dish inspired by someone they admire. One cook will go before the remaining seven prepare a three-course lunch at Grocers Hall, home to one of the oldest companies in the City of London.
VIP diners will include leading spice industry experts and authors.
Contestants will then be challenged to cook an outstanding dish for five of the country's most feared critics, Tracey MacLeod, Grace Dent, William Sitwell, Amol Rajan and Jimi Famurewa.