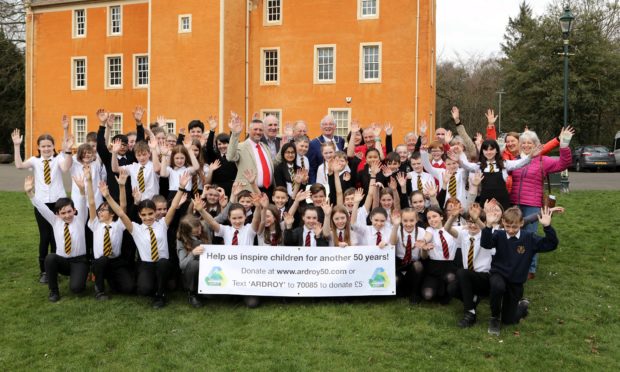 A major fundraising appeal to modernise an outdoor education centre beloved by generations of Fifers has been launched to mark its 50th anniversary.
Ardroy Outdoor Education Centre, which is situated on the edge of Loch Goil in the Loch Lomond and The Trossachs National Park, has provided more than 100,000 children and young people from Fife with enjoyable life changing outdoor experiences for half a century.
Representatives from the Ardroy charitable trust were in Dunfermline's Pittencrieff Park on Thursday to launch an appeal to raise £650,000 so the centre can continue to inspire Fife's children for another 50 years.
Provost Jim Leishman was on hand to kick-start the fund-raising drive, along with pupils from two local primary schools.
John Endeacott, who was the original warden when Ardroy opened in 1969, was also in attendance.
Mr Leishman said: "Ardroy has had a special relationship with Fifers for the last 50 years and I am delighted to be invited today to help recognise their excellent work with generations of Fife children."
A new two-storey building is envisaged to replace the Heron Block. It will comprise dormitories which can be adapted into family units, bathroom facilities, meeting rooms, a classroom and staff room.
The ambitious plans are a huge shift from 2011, when the centre was threatened with closure due to financial pressures on the local authority.
Parents, teachers, staff and national politicians gathered together and negotiated to take over Ardroy, which reopened a few months later as a charitable trust and social enterprise.
James Fraser, chairman of the Ardroy Trust, said: ''Ardroy has been a great success story both under the previous stewardship of Fife Council for more than 40 years and for the past eight years under the umbrella of an independent charitable trust that is investing heavily in upgrading facilities to ensure the centre is fit for the future.''
David Thorpe, Ardroy's centre manager, said the fund-raising launch represented a "significant milestone" for everyone involved with the centre.
"The current team are incredibly proud to be continuing to deliver life changing experiences through residential learning in the outdoors, 50 years on from when the centre opened," he said.
"To continue to sustain and improve what we do for future generations however, we need to replace our existing accommodation block.''
Anyone wishing to help Ardroy hit its target can make a donation by texting 'ARDROY' to 70085 to donate £5.
Alternatively, give any whole amount up to £20 by texting the word 'ARDROY' and an amount i.e. 'ARDROY 20' to give £20.
Donations can also be made online at www.ardroy50.com, while people are being encouraged to share their own experiences on the 'My Ardroy Story' section on the Ardroy Facebook page.