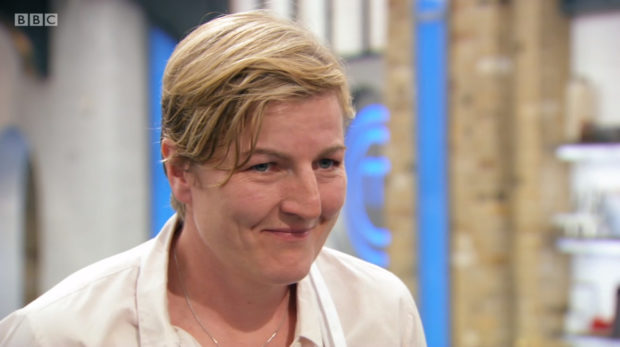 Fife MasterChef contestant Jilly McCord is through to the final of the hit TV cooking competition.
The 42-year-old Dollar Academy teacher has made Friday's all-female final – the first in the history of the show – after impressing judges with her French dish of lamb Provencal and lamb shoulder croquettes.
John Torode and Gregg Wallace both complimented the history teacher's dish and announced Jilly as the first chef through to Friday's final.
Greg Wallace called the plate "absolute genius" while John Torode said it was "elegant, sophisticated and really well done."
Jilly said she was surprised to have made it to the final three.
She said: "I have always had confidence that I was a decent home cook, but you realise very quickly in this competition that there are other excellent cooks out there."
"There were lots of cooks who could have made it to this stage, but I was able to hold my nerve and have a bit of luck along the way, and here I am.
"I never thought I'd get here. Never thought in a million year's that I'd get here – so I'm just delighted."
The former rugby internationalist's culinary skills wowed judges when she recreated renowned Michelin star chef Raymond Blanc's cafe creme dessert – having been mentored by him at his Oxfordshire restaurant Belmond Le Manoir Aux Quat'Saisons.
Gregg Wallace remarked on the dessert: "I love this dish, love it."
Jilly is joined in the final by Irini and Delia after Geoff was knocked out in Thursday's penultimate episode.
Fellow finalist Delia, a 28-year-old police officer from Kent, also said she was "extremely surprised" over her success.
She said she would be "happy with any of us winning", adding: "They are great ladies."
Irini, a 61-year-old retired banker who is originally from Crete and now lives in Cumbria, said she has learnt more about herself than she thought she would throughout the competition.
She said: "I never thought that the intensity of the competition would bring to the surface personal issues or characteristics."
Jilly and her fellow home cooks will now have to push themselves to their limits to create the best three dishes of their lives and convince the judges that they deserve to be crowned the MasterChef champion for 2019.
The MasterChef final airs at 8.30pm on Friday on BBC One.