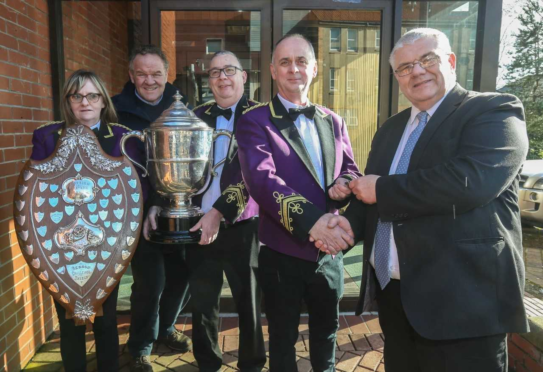 Not blowing its own trumpet, but Scotland's band of the year has recorded a first for Fife.
Award-winning Kingdom Brass plans to breathe new life into an empty building, having been given the keys to the former Kelty Library.
The musicians are the first community group to take over a former Fife Council building through a community asset transfer and have big plans for the building, which will be used to provide a music hub, rehearsal space, deliver a youth programme and store instruments.
Labour councillor Gary Guichan, vice convener of the council's assets, property and facilities committee, said he was delighted that the building was going to be used by the community in this way.
"The way the council delivers services continues to evolve and we no longer need so many buildings across Fife,"  he said.
"By going through the community asset transfer process, Kingdom Brass can now benefit from these premises."
He encouraged groups across Fife who can demonstrate they can use empty buildings for the benefit of their community, to get in touch with the community asset transfer team.
Kingdom Brass had been looking to secure its own premises for some time.
It first submitted an application in December 2016 after identifying the former Kelty Library – which has now moved into the village's new community centre – as a suitable venue.
The group has strong local links and aims to deliver musical opportunities to improve the social and mental wellbeing of that community.
Secretary John Todd was delighted to finally have the keys to the building.
He said: "Securing our own rehearsal facilities will finally give us the stability we've been seeking since moving out of the Haldane Hall a decade ago.
"Kingdom Brass was formed from the merger of the Kelty and Blairadam and Cowdenbeath bands, and this move comes in our 20th anniversary year."
In 2018 the band had enjoyed great success, winning the Scottish Challenge Shield and the Fife Champions cup, just two of almost 20 trophies and awards which culminated in being named Scotland's Band of the Year.
"The tradition of having a brass band in Kelty goes back to the 1850s, and while we've been very lucky to have performed all across Europe and the UK, including performing in prestigious venues such as the Royal Albert Hall, it does feel special bringing the band back to Kelty."
Mr Guichan added: "This move will provide a great opportunity for children and young people to be involved in music and feel part of a supported community. Kingdom Brass are an organisation embedded firmly in the Cowdenbeath area and I wish them continued success in their new premises."