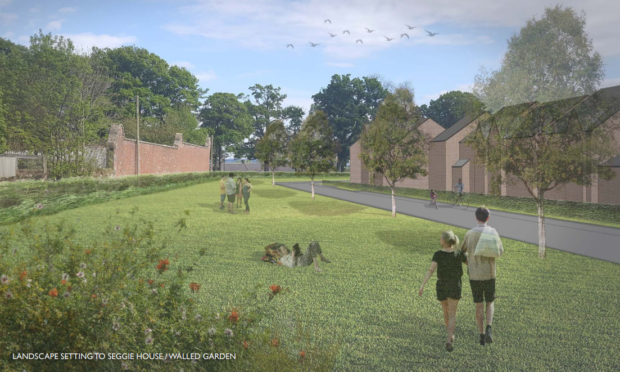 A huge expansion of Guardbridge could be given the go-ahead on the condition the developer helps pay to extend the new Madras College.
Construction of 335 houses and flats on the western edge of the village has been recommended for approval by planning officers.
If Fife Council's north east development committee gives consent on Wednesday, a legal agreement will be sought with Pesimmon Homes North Scotland, requiring it to pay a share of £4.5 million towards an extension to the yet-to-be-built school.
The developer would also be required to pay for a two-classroom extension with dining and gym hall at Guardbridge Primary School.
Planners said that the major development on two fields at Seggie Farm, including 100 affordable homes, was considered acceptable in principle.
A report by chartered planner William Shand said the 35 development sites in Madras College's catchment area would require additional capacity at the new 1,450-pupil school.
It said: "The new Madras has been designed to increase in capacity should this ever be required and [the] education [service] has stated that a financial contribution should be taken from each development site within the catchment to provide for this additional capacity.
---
>> Keep up to date with the latest news with The Courier newsletter
---
"The cost of this would be £4.5 million and should the additional capacity not be required then the contributions would be passed back to the developers."
The existing Madras College is big enough to accommodate pupils from the developments and Mr Shand said assessment was needed as to whether contributions could be taken for a school which was yet to be built.
However, he said it was considered reasonable to use the size of the new school, to open in 2021, as it would experience the impact.
The developer has agreed to contribute an equitable share of the £4.5m, he said, and the entire cost of the extension to the primary school, which will be required by August 2021.
A Fife Council spokesperson said £4.5m was an indicative cost, as there was not yet a plan for an extension just a strategy to provide one if needed.
She said: "The new Madras has been designed in such a way that it is capable of extension.
"However, we have not progressed any design work for an extension at this time."
Mr Shand's report also stated that additional traffic generated by the new Guardbridge homes and those in the St Andrews West expansion would require traffic signals to be installed at the roundabout junction of the A91 and A919.
Up to 60 more homes are planned in the village by Motray Park.
McHale Enterprises has submitted planning application for residential development, which will be considered in due course.