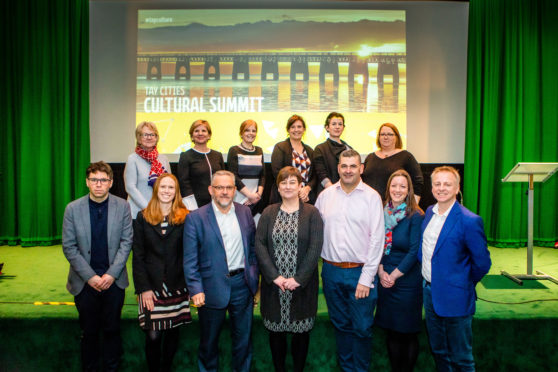 Arts and culture organisations from across Courier Country have come together to explore ways the area could benefit from them working together.
Representatives from groups across from Tayside and Fife descended upon the Steps Theatre, in Dundee Central Library, for the first Tay Cities Cultural Summit.
Groups such as Leisure and Culture Dundee, V&A Dundee, Fife Cultural Trust, Angus Alive, Culture Perth and Kinross and VisitScotland sent senior staff to the event.
The day included discussions on the impact of V&A Dundee on the city, how to strengthen regional collaborations and how to support volunteers.
Keynote speaker Bridget McConnell, chief executive of Glasgow Life, gave a personal overview of her experiences in Glasgow and how they can be transferred the Tayside area.
Kirsty Hunter, Angus Alive chief executive, said: "There's been significant planning between the charitable trusts with a culture remit in Angus, Dundee, Fife and Perth and Kinross to deliver together today's culture summit.
"I think it's been an excellent day with a diverse agenda and speakers that have provoked an engaging discussion about how the cultural sector can continue to be a key driver of economic, social and wellbeing benefits for our communities.
"It's been really encouraging and people have been asking a lot of questions and have demonstrated they are committed to working in partnership to achieve shared outcomes.
"Public sector funding is under significant pressure at the moment and the traditional funding mechanisms are not something we can continue to rely on as the only or main source of funding in future.
"We need to diversify and develop different sources of funding,  be open to new ideas and think creatively so the cultural services we provide can be sustainable over the longer term."
Stewart Murdoch, Leisure and Culture Dundee chief executive, said: "This is the first event that has brought culture organisations from across the Tayside area together.
"A lot of discussions are going on already, with people talking about collaborations and that can only be a good thing."
Heather Stuart, chief executive of Fife Cultural Trust, chaired a panel featuring Gary Cameron from Creative Scotland, Lucy Casot from Museums Galleries Scotland and Dame Seona Reid, retiring chairwoman of the National Lottery Heritage Fund Scotland.
The panel fielded questions from the audience and covered topics such as volunteer workers and how to work across different regions.
Ms Stuart said: "I think the quality of the debate was excellent. There was some challenging questions.
"We have got to get serious about how we grow and maintain culture services."