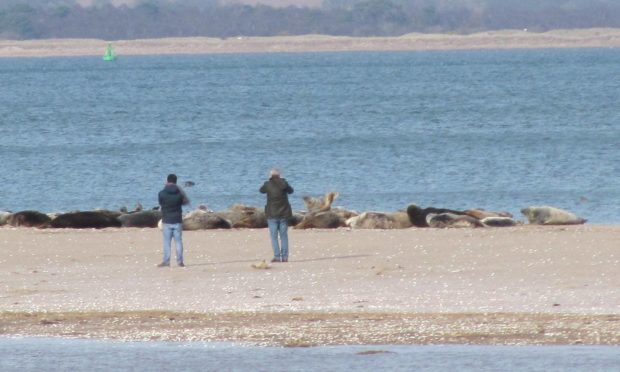 A photograph of two people walking just feet away from seals at Tentsmuir Point has prompted a warning to the public to keep their distance.
The pair were photographed at the Abertay sand bars apparently taking pictures of a large pod of the animals lying on the shore.
Scotland's National Nature Reserves said the two had behaved irresponsibly and would have caused distress and disturbance to the seals and other wildlife, including birds.
The incident happened amid concerns about sightseers causing stress to a colony of seals on  beach in Aberdeenshire.
Mass stampedes at the mouth of the River Ythan, at Newburgh, have been blamed on people getting too close to the animals, Scottish Natural Heritage warned.
Stampeding seals can injure themselves in a rush to return to the water and mothers may desert pups. They also need to "haul out"on the sand to heal wounds, gain vitamins from the sun and moult.
The issue was highlighted in a recent investigation by BBC Scotland's Landward programme.
Tentsmuir reserve manager Tom Cunningham said the latest case at the Fife beauty spot was a worrying development.
"Disturbance causes tremendous stress to the seals," he said.
"These people will probably have walked all the way from Kinshaldy car park, about a mile and a half away, also disturbing birds all along the coast.
"They are actually breaking the law, disturbing wildlife is a crime.
"They were also endangering their own lives because the tide comes in from behind there and they could have been cut off."
A warning from Scotland's National Nature Reserves said: "Following on from the seal disturbance issue on the recent BBC Landward, sadly we have the same irresponsible action from some visitors disturbing the seals at Tentsmuir Point.
"Not only the seals but how many birds were also disturbed by these two visitors walking way out on the Abertay sand bars?
"Please view from a distance just like our volunteer bird surveyor who took this image from the safety of the dunes."