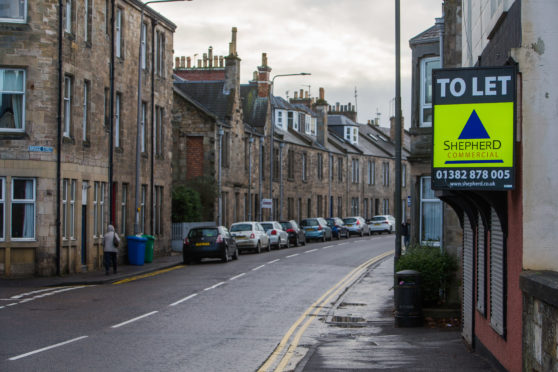 Fife councillors have agreed a controversial freeze on new houses of multiple occupancy (HMOs) in St Andrews.
The decision to call a halt  was taken despite a late submission by the university's students association which hoped to prevent a ban.
Its  survey looked at the extent of a practice of "locking off" rooms to avoid HMO licensing, which comes into force where three or more unrelated individuals share a home.
It claimed there were currently around 145 "wasted" bedrooms in private student properties, which could be let out if landlords did not have to dodge the cost and paperwork of an HMO licence.
However, the report was discredited by Conservative councillor Linda Holt, who said the research "betrayed a clear vested interest".
"It is amateurish, it has not been independently verified, it is not open to public scrutiny and it raises more questions than it answers as there are many reasons why not every room in a rented property is let out as a bedroom.
"It is no basis on which to make policy."
Labour councillor Brian Thomson said while the issue of locked and underused rooms may warrant further discussion, the research was not robust enough to exempt it from the new policy.
He claimed there is no current shortage of student accommodation but he believes the growth in the number of HMOs has been contributing to the shortage of affordable housing in the town.
The council consulted householders, local groups and students about the possible HMO cap.
There was a mixed response, with eight in 10 households favouring a cap and nine in 10 students opting for some room for expansion.
It is hoped the decision will relieve pressure on St Andrews' overcrowded housing market and meet accommodation demands from all sections of the community.
But Lib Dem councillor Jane Ann Liston was not in favour of the cap.
She said: "While the ban may please the few town residents who would rather not have student neighbours,  rather than free up houses for general occupancy, the student population is likely to be spread more thinly two by two, over more houses."
The university, which generates £268 million for the local St Andrews economy, has already provided more accommodation for students per head than any other UK university and is currently building another 900 rooms and a 64-bed affordable housing scheme for staff and post-graduate students.
A spokesman for the university said: "We are committed to playing our part in sustaining a balanced and fair community in St Andrews, but it is very doubtful that an HMO cap would achieve that."
Committee convener, Labour councillor Judy Hamilton, said different ways of reducing pressure on accommodation had been tried but hadn't solved the problem.
Pledging to continue to work with the university to explore options for housing in the town, she said she hopes the decision would help create a better balance between the needs of the wider community.