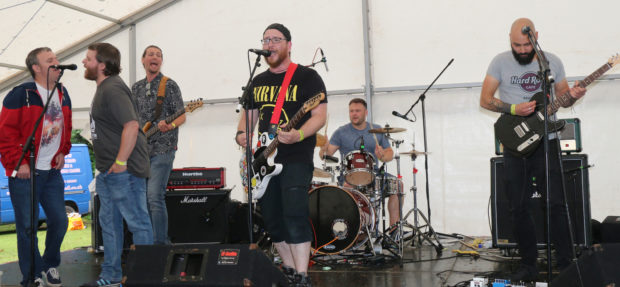 A Fife music festival which sold out last year is to return this summer.
Silverburn Festival will have a line-up of folk and traditional musicians over two days in July to raise money for improvements to Silverburn Park, near Leven, where the event will be held.
The headliners will be Catch 22s with other acts confirmed including Gypsy Roots, Healthy Minds Collapse and Cody Feechan.
As the park is Fife's first Gaelic-friendly park, the event will also feature a number of Gaelic-themed attractions and celebrate the UNESCO Year of Indigenous Languages.
Duncan Mitchell, of Fife Employment Access Trust (FEAT), which is developing the park, said: "We completely sold out last year and in fact had to increase the size of the marquee such was the demand.
"This year we've started with the larger marquee from the outset and added a second stage as well so we have even more capacity than ever before.
"The event is established now after five years of running and adding a different dimension to the Sunday can help us reach an even wider audience."
He appealed for sponsors to help with costs of staging the event on July 27 and 28 and to join the first confirmed supporter, Anstruther Fish Bar.
He said: "The costs are fairly substantial and we always aim to keep ticket prices as low as possible for the local community, whilst trying to balance that with making a profit over the weekend so we can reinvest that profit back into the park.
"Sponsorships and donations are therefore of huge benefit both to the event and also the future of the park."
Duncan said FEAT's work at the park was going from strength to strength this year.
Community allotments temporarily closed to the discovery of wartime grenades have reopened, he said.
A new volunteer growing project has started growing produce in the park for sale in its Cottage Window Café.
Underground drainage and utilities preparation for the forthcoming campsite field have been completed.
Duncan said: "Visitors are consistently praising the efforts of the Silverburn team for their endeavour over the winter which has led to the gardens looking the best they've looked for quite some time.
"There remains a lot of activity behind the scenes too as we continue to secure significant levels of funding required to transform the flax mill."
A monthly briefing about Silverburn and the first park tour will be led by FEAT chairman Brian Robertson on April 17, meeting in the car park at 6pm.