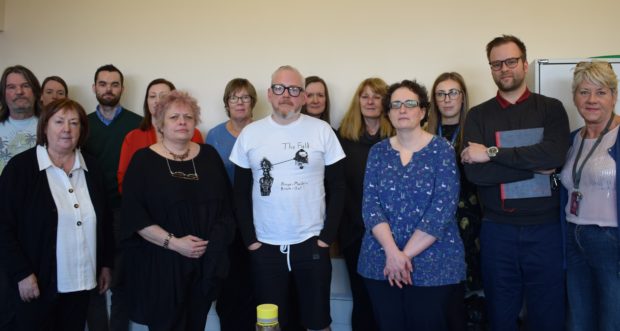 The "nightmare" impact of Universal Credit in Fife has been laid bare by frontline organisations.
A surge in poverty, addiction, crime and prostitution have been blamed on the new welfare policy rolled out in Fife in 2017.
At a meeting organised by local Labour MP Lesley Laird, many groups, including  Kirkcaldy Foodbank and Citizens Advice Rights Fife (CARF ), described the human cost of changes to the system.
All reported a huge increase in demand on services from people affected by sanctions or waiting weeks for a first payment.
Food bank chairwoman Joyce Leggate said more and more families are in crisis, adding: "We used to provide a service for people with acute need, now it is chronic support.
"We've got people coming every week for a year and we see the mental health of people deteriorating.
"Their heads are down, they're beaten by the system."
According to Fife Economy Partnership's latest figures, 7,422 people in Fife are registered as Universal Credit claimants seeking work.
The meeting heard low-paid workers who are eligible for Universal Credit top-up are expected to show they were seeking extra work – or face sanctions.
Zoe Nicholson, of Link Living said in the past appointments could be simply rescheduled but now claimants faced long calls on hold.
"People are just too exhausted by the system," she said.
"People don't have the fight in them, it's just not worth it."
Groups also reported that large families are separating because they cannot afford to live together,while others are deliberately committing crime to return to jail.
The meeting highlighted a "hand-in-hand" rise in the black-market economy, addiction and prostitution in the Kirkcaldy area.
Meanwhile, frontline services and charities are struggling to meet an upsurge in demand.
Liz Easton of Kirkcaldy YMCA said: "When you apply for funding all you hear is 'how little you can do this for?'
"It's a race to the bottom."
Mrs Laird, who could not attend due to Westminster commitments, said the picture painted made for grim reading, "a litany of despair" which starkly illustrated how Universal Credit is harming health, consigning children to a life of poverty and damaging communities.
The shocking impact of the highly criticised benefit change comes as North East Fife Lib Dem MSP Willie Rennie demanded changes to the "dismal" system, after new figures revealed more than 1,000 Fife Council tenants have slipped into rent arrears since its roll out.
Meanwhile Mr Rennie found, under a Freedom of Information request, that of the 5,606 Universal Credit claimants in council housing, 3,761 are now in rent arrears, owning sums up to £5,621, including more than 1,000 who were not in arrears prior to the benefits change.
"Since its introduction in Fife is has been a dismal failure, pushing hundreds of families into rent arrears," he said.
"People have every right to demand better."
A DWP spokesperson said: "Our research shows that many people join Universal Credit with pre-existing arrears, but that number falls by a third after four months.
"The reasons for people using food banks are complex.
"Meanwhile for those who need extra support, the UK Government spends over £90 billion including those who are on a low income.
"In addition, Scotland, has significant welfare powers and can top-up existing benefits, pay discretionary payments and create entirely new benefits altogether."