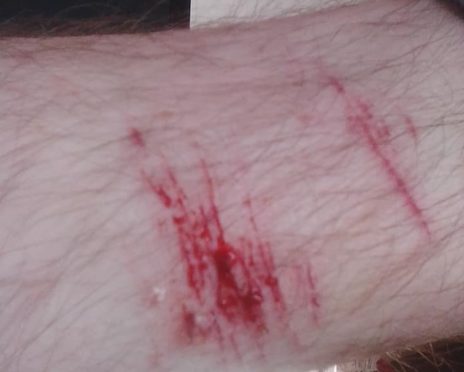 Members of the public in Levenmouth have been urged to be wary after what appear to be makeshift deer traps were found in a popular walking spot.
The shocking find was made by a local man who was injured by one when he was out walking his dog in an area known as The Dam by the River Leven.
The man, who did not wish to be named, was able to dismantle one of the contraptions comprising of barbed wire, metal and wood tied to trees. He suffered extensive injuries to his arm as a result.
People are being warned to be vigilant while in the Methil area in case other traps have been set.
Local Labour councillor David Graham said he has been approached by a number of residents about the dangers posed by the deer traps and has asked Fife's Safer Communities team to investigate.
He said: "I've recently received concerns from residents regarding the apparent setting of deer traps in the River Leven area, which is more commonly known as The Dam.
"The setting of these contraptions is brutally cruel and can cause serious injury and possible death to animals who get caught in them.
"It is outrageous that these methods are being used in our community and I have contacted the relevant officers within the council to ask them to investigate the issue and give me feedback as soon as possible on proposed actions.
"The Dam area is regularly used by dog walkers and I urge owners and those who go walking to stay vigilant of the possibility of these barbaric contraptions being present in the area."
The incident comes just days after a similar illegal animal trap was reported in Auchinleck in the west of Scotland, where a man stumbled across a deer snare like the one reported in the Levenmouth area.
Sharp wire is often wrapped between trees in a bid to capture wild deer or other animals, although animal welfare charities have condemned the practice as "indiscriminate" with the risk of pets and their owners getting caught up in the traps deemed to be extremely high.
Scottish SPCA chief superintendent Mike Flynn appealed for people to take care.
"Snares are indiscriminate and will capture any animal, be that a deer or dog or cat," he said.
"The suffering that an animal endures in a snare is horrific and while snaring continues, suffering will continue and that is why we are in favour of an outright ban on the use of snares in Scotland.
"If anyone does find a snare, we ask that you leave it untouched and to contact our animal helpline on 03000 999 999 if you believe it to have been set illegally."