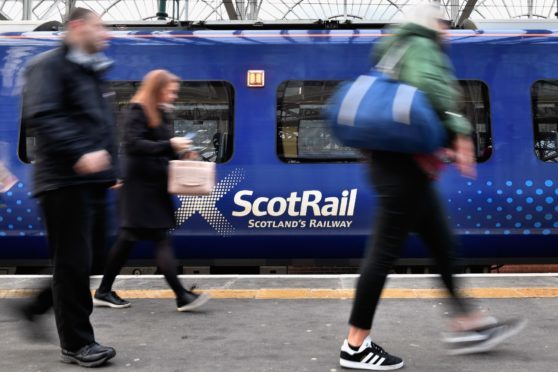 Fife Council has held a meeting with ScotRail in a week which saw more misery for commuters in the region.
ScotRail Alliance managing director Alex Hynes met Fife councillors in Glenrothes to discuss the way ahead for local train services, which have suffered widespread cancellations and disruption.
The meeting coincided with some of the worst disruption experienced on the Fife Circle, with many services between Edinburgh and Fife cancelled on Tuesday and Wednesday.
Attending the meeting was Labour councillor Altany Craik, convener of Fife's economy, tourism, strategic planning and transportation committee.
Mr Craik said the improvements ScotRail had pledged to make, with new rolling stock being delivered and more staff being hired in the coming months, would not happen overnight.
"Today has proved to us that there's a long way to go but our patience is not limitless," he said.
"Everyone is frustrated and we are not prepared to put up with this."
He added: "At the meeting there was a robust discussion about the problems, where all points were raised, from ticket prices to service levels to overcrowding.
"The service should improve by the end of the year as things come on stream, but I expect the changes will be marginal for a while."
ScotRail has apologised to customers whose journeys have been disrupted and said it was "a challenging time for Scotland's railway".
The rail operator said problems stemmed from the late delivery of the new Class 385 and upgraded high-speed InterCity trains, industrial action, and the impact this has had on ScotRail's ability to train enough drivers and conductors on the new trains.
Mr Hynes said: "The importance of engaging with stakeholders and local politicians, gaining valuable feedback from their constituents, and sharing our plans to improve cannot be underestimated.
"The meeting with the elected members from Fife was very worthwhile, and I look forward to more engagement with the councillors as we look to deliver the service our customers expect and deserve."
Shirley-Anne Somerville, SNP MSP for Dunfermline, said commuters in west Fife had been hardest hit by this week's cancellations.
"The people affected want answers and commitments on how this ongoing issue is going to be addressed," she said.
"Continually being faced, often at short notice, with these types of cancellations and delays is causing huge disruption to many people's lives."
"I have recently met with both ScotRail and Transport Scotland to discuss the issues facing the Fife Circle. I will be seeking further answers as to why such a high number of cancellations have happened and how this can be avoided in the future."
"An explanation of train crew shortages is simply empty rhetoric to someone whose journey has been disrupted by these cancellations. Solutions must be found for west Fife commuters."