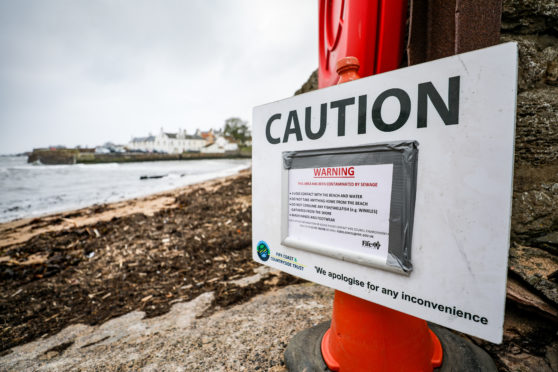 The beach at Anstruther has reopened to the public following a sewage spill.
Fife Council said the stretch of coast near Castle Street and Shore Street was reopened on Saturday after a new pipe was fitted.
On Friday, the beach was closed for the second time in the space of a week after a private sewer was blocked by wet wipes leading to contamination at the shore.
Linda Turner from environmental health at the council said Scottish Water carried out remedial works on Friday evening.
And she said efforts were being made to prevent further leaks of sewage.
She said: "Scottish Water are currently carrying out more investigative works to establish where the original fault occurred.
"Partners will also be looking at a longer-term solution to this issue.
"The incident has involved a response from environmental health at Fife Council, Scottish Water as well as NHS Fife Public Health, Fife Coast and Countryside Trust, the Scottish Environment Protection Agency (SEPA), Food Standards Scotland and Health Protection Scotland."
On Monday last week, people were told to stay away from the shore.
Signs were put up advising people to avoid contact with the beach and water, not to eat fish or shellfish from the shore and to wash hands and footwear.
The beach was reopened again on Wednesday, but on Friday afternoon the council confirmed the problem had resurfaced.
Bathing water in Anstruther has been rated "excellent" by SEPA in the past two years, although it remains to be seen how this latest incident will affect water quality in the weeks to come.