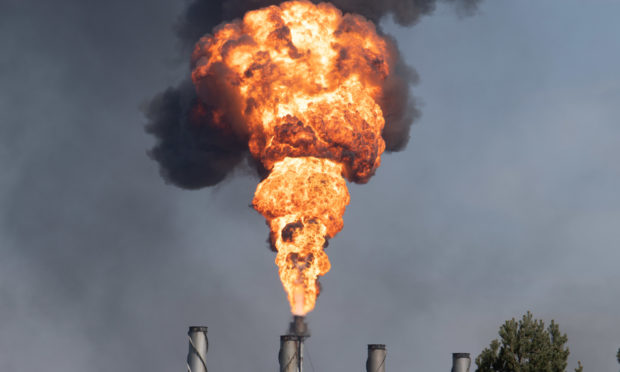 Protestors wearing gas masks will demand an independent study into the impacts of the Mossmorran petrochemical plant on the wider community.
A demonstration will be held at Fife House, just days after the latest episode of unplanned flaring came to an end at the Fife Ethylene Plant, near Cowdenbeath.
The campaigners are backing a motion by Conservative councillor Richard Watt for Fife Council to press the Scottish Government for an expert investigation into the environmental, social and health effects of the site.
Almost 3,000 signatures had been collected by Sunday afternoon on a petition by the Mossmorran Action Group, which is leading the demonstration as the council meets on Thursday.
Chairman James Glen said: "This is a real opportunity for parties to put politics aside and support this motion to have these issues looked at and get the data so we can progress and get redress for the residents surrounding these facilities.
"We have had so many reports from people saying existing health conditions have been exacerbated, asthma, anxiety, sleep disorders.
"People have told us they have had headaches, migraines, sleep disturbance, and children crying in fear thinking the plant is going to blow up."
Elevated flaring, a safety mechanism used during process upsets, went on for six days and ended in the early hours of Saturday.
Operator ExxonMobil Chemical said the plant returned safely to normal operations on Friday night but ground flaring above normal levels would continue for a short period.
A statement on Saturday said: "We are already undertaking our investigation into this unplanned event, focusing on root cause, corrective action and evaluation of ways to continuously improve our response following a process upset.
"Furthermore, we will next week submit to Sepa our best available techniques report, which will set a pathway to further minimise unplanned flaring events."
Environment agency Sepa, which has received over 750 complaints, said an update on monitoring results would be published early this week.
Air quality monitoring last Monday showed no cause for concern, it said.
Chief executive Terry A'Hearn is to meet with plant manager Jacob McAlister on Monday and confirmed he would attend a public meeting on May 17.
Mr A'Hearn said: "Whilst the Mossmorran complex is a major industrial facility where this type of flaring is a legitimate safety mechanism, this is happening too often and the level and extent of flaring is wholly unacceptable. "
He urged people to continue reporting impacts via its website or by calling its pollution hotline on 0800 80 70 60.
The agency issued final warning letters a year ago to both ExxonMobil and NGL plant operator Shell following "preventable and unacceptable" flaring.