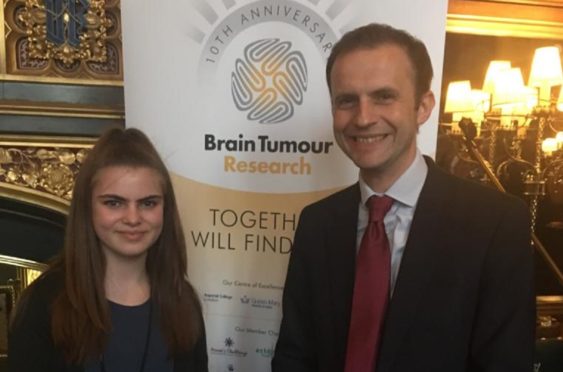 A family whose daughter received treatment for a brain tumour at the age of two have been applauded for their commitment to help other families.
Vanessa Dury, who lives in St Andrews, was among guests invited to a reception at Westminster to mark the 10th anniversary of the charity Brain Tumour Research and to celebrate a decade of collaboration and achievement.
Daughter Maisie, who is now 14-years-old despite originally being given a survival prognosis of five to 10 years in 2007, was initially diagnosed with epilepsy after she began to have seizures. A brain tumour was revealed in a routine MRI scan.
She underwent surgery which was successful in removing the rare central neurocytoma.
The launch of Brain Tumour Research could not have been as successful without the dedication and help of Vanessa who, having previously worked in Westminster, galvanised support from a number of MPs and peers for the launch and three months later drafted the charity's first statistic report gaining national coverage.
Maisie was at the launch of the charity 10 years ago and has continued to help raise awareness of brain tumours and raising funds for the cause.
Vanessa said: "We were delighted to be invited to this event to celebrate 10 years since the launch of Brain Tumour Research.
"It was a lovely occasion and great to meet up with so many people from the brain tumour community who have played a role in transforming research into brain tumours over the last decade or more."
There are now 24 brain tumour charities working together under the umbrella of Brain Tumour Research and, between them, income has grown from £1.5 million in 2009 to £7 million now funding research and support each year.
The occasion was also marked with the launch of Brain Tumour Research's new manifesto Find a Cure which sets out its plans to grow capacity in research into brain tumours, build research infrastructure, accelerate treatment options for patients, and to further increase national investment in the field to £35 million a year by 2025.
Maisie said: "Nobody can tell me what caused my tumour or what might happen in the future.
"I am lucky to be here to celebrate what the charity has achieved.
"I know that other children with brain tumours have not survived, so it is important to support the work to help people like me and hope in the future all children with brain tumours can get better."
Vanessa and Maisie's local SNP MP Stephen Gethins, who also attended the reception, said the charity had taken huge steps towards finding a cure for such a devastating disease.
"Maisie and her family have helped raise funds to help the charity fight back and I was pleased to be able to put down a motion in Parliament recognising all their hard work," he added.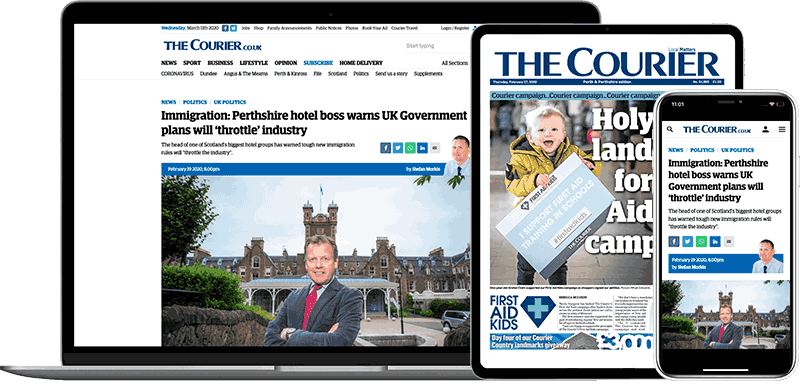 Help support quality local journalism … become a digital subscriber to The Courier
For as little as £5.99 a month you can access all of our content, including Premium articles.
Subscribe