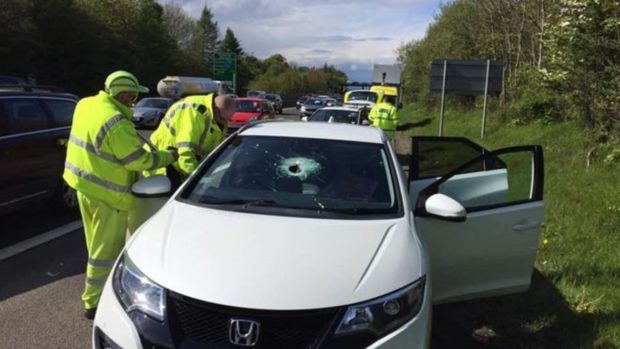 A Fife mother and her son have had a miraculous escape after a Champagne bottle was thrown from a bridge through their car's windscreen.
Fiona Gray, 45, had been travelling with her six-year-old son Jacob from Dalgety Bay to see her boyfriend down in the Borders when the massive Magnum was launched from an over bridge on the Edinburgh City Bypass near Hermiston Gait on Friday afternoon.
The bottle crashed through the windscreen of the vehicle, which had been travelling at between 60 and 70mph at the time, but amazingly tragedy was averted by a matter of inches.
Fiona and Jacob were covered with glass but thankfully neither were seriously injured, although it was fortunate that Jacob had been wearing sunglasses which shielded his eyes from the shards of glass.
Fiona herself was slightly hurt but admits she was lucky the incident did not cause far more serious consequences.
"Two to three inches to the left and I'd be dead," she said.
"I have no words. I bubbled on the shoulder of my bro who helped once the amazing police had to go.
"We were showered with glass and I've got a sore and bloodied side.
"But lucky. Oh so lucky."
"Police were amazing with us and every officer would come up shaking their head asking 'why would anyone do this?'
"But it's the shock and adrenaline that kicks in afterwards, the what-ifs.
"If it didn't kill me then, I'd lose control of the car and Jacob and I would be dead.
"The what-ifs give me nightmares."
Police Scotland have appealed to drivers who may have seen anyone acting suspiciously on the bypass between 3pm and 3.45pm on Friday, and have also urged anyone with dash cam footage that could help their investigation to come forward.
A spokeswoman for the force confirmed the incident.
She said: "At around 3.55pm on Friday May 10, police were called to a report of a bottle been thrown off a bridge on the Edinburgh Bypass.
"It struck a vehicle heading eastbound on the A720 near the Hermiston Gait junction.
"No-one was injured but inquiries are ongoing."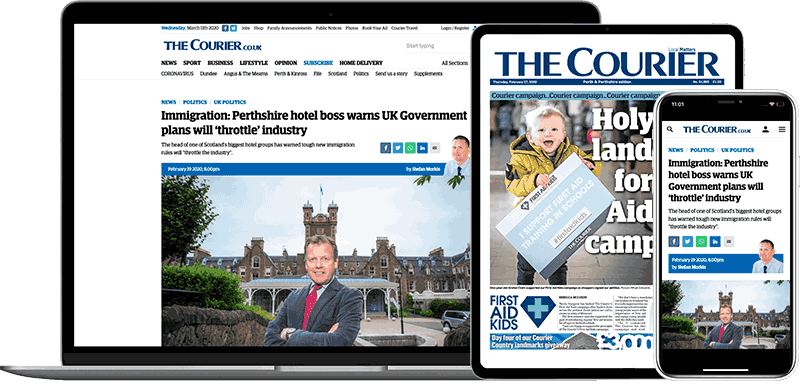 Help support quality local journalism … become a digital subscriber to The Courier
For as little as £5.99 a month you can access all of our content, including Premium articles.
Subscribe