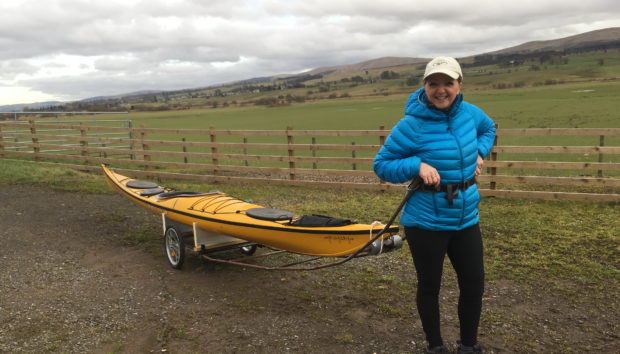 There is nothing unusual in a sea kayaker fundraising for the RNLI.
What is strange however, is the novel way Alexis Rigby is doing her 38-mile challenge.
She is not plotting a water course, but is hauling her five-metre-long kayak Mykayakym on a trolley by road.
Alexis, 64, said: "Having been a sea kayaker for a good few years now, and a long time supporter of the RNLI, I wanted to do something to raise funds for them.
"However, as a paddler I felt that I needed to take myself out of my happy place and do something which would really put me out.
"So, as these wonderful people, in all weather conditions, would come out to sea to get me, then I thought that I should to go to them."
Her three-day endurance walk will take place from Friday to Sunday between her house in Kinbuck – north of Dunblane – and her nearest RNLI Lifeboat station, at South Queensferry, a trek of nearly 40 miles.
"The tough bit, aside from the walking – which is something I really don't like doing, is that I will be pulling my sea kayak on a trolley.
"This is not a big event with lots of people, it is just me."
Alexis, who is nearing her £5,000 target, intends to use cycle routes as much as she can.
The first day will see her, and her bright yellow boat, head through Dunblane, Bridge of Allan, Alloa and Clackmannan.
The second leg will take in the West Fife Way.
The final day will see her head from Dunfermline to Rosyth and across the Forth Road Bridge to the RNLI station.
"I am not doing this in the name of a loved one but rather for all those RNLI volunteers who have already given service, some their lives, and those who are prepared to do so now, and are always at the end of our personal locator beacons, flares, radios and telephones.
"I will be doing this walk solo, but because the sea kayak and trolley are over 17 feet long, I will have support at some specific points of the way.
"I feel that I have to do this before I get much older – I will be 64 at the time – and have been in training since January to get prepared.
"If you are out and about over that weekend please come and give me a wave.
"I would be very grateful for your encouragement.
"I am putting my heart and soul into this, as it will be a one-off for me, and am hoping to raise as much money as I possibly can."
Alexis can be sponsored at http://www.justgiving.com/fundraising/AlexisKayakWalk.