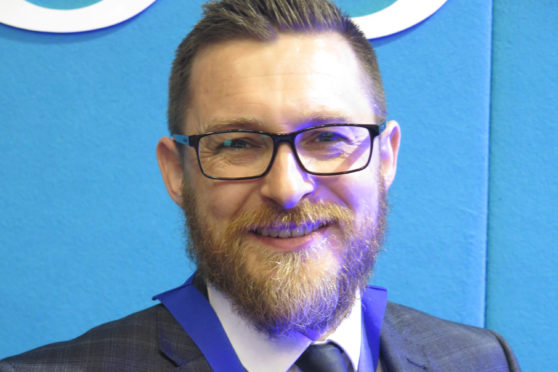 Teachers are suffering from historically unmanageable workloads and bad pupil behaviour according to the Scottish Secondary Teachers' Association president.
Kevin Campbell, who teaches at Levenmouth Academy, will make the claims as he addresses the association's annual congress in Crieff on Friday.
He will say the year had been a slog, caused by a three-way battle over pay, workload and pupil behaviour.
Mr Campbell is expected to claim the anger and frustration teachers were feeling was palpable.
"We can't take any more," he will tell congress, adding recruitment is difficult, many are leaving the profession and those determined to stay are finding it increasingly difficult.
While the principles of Curriculum for Excellence are "utterly laudable" he will claim its implementation had been "an absolute nightmare" for the profession, with teachers not fully consulted on what he claimed was a "half baked hodgepodge".
Those in charge "blazed on regardless", knowing teachers would knuckle down and get on with it, he will say.
"The thing is, we have. We are the reason that the education system is Scotland isn't a complete shambles."
He is expected to warn teachers should say they have had enough and put their families and health before "sorting out the mess that our education system is in".
Several years on from the introduction of CfE, issues remain unresolved with school structures unable to meet the demands the curriculum places on them.
"The desire to offer pupils everything, when they want it and how they want it just can't work. There just isn't the resources."
Stating teachers were being asked to do an impossible job, he will add: "Of course, ultimately it is the children of Scotland who will suffer, are already suffering, when they don't get the time they require with their teacher and when their teacher doesn't get the time they need to do their job."
This was coupled with a rise in behavioural issues among pupils, with a recent survey carried out by the association showing more than 70% of teachers are affected on a regular basis.
"For me, this verbal abuse ranks top of all stress-inducing factors in my job."
In his address he is expected to say staff often receive a lack of support from their managers.
"To my mind this sort of behaviour has slowly evolved over the course of the last two decades, it has worsened under the aegis of CfE."
A  culture where children are not held accountable for their actions meant teachers were often left feeling powerless.
The system was leaving children with a distorted view of society they would emerge into, where they will be held accountable for their actions.
It is critical teachers imparted to youngsters the need for self discipline.
"Our senior bosses in schools, local authorities and in the government must accept this.
"They need to empower our profession to take back control in the classrooms."
Deputy First Minister and education secretary John Swinney said work is being done to improve matters.
"All teachers should feel valued – that is why we are already taking a range of actions to put in place additional support to improve recruitment and retention rates, improve pay and tackle workload wherever possible," he said.
"As part of the teacher pay deal, we have reached a landmark agreement which brings together a partnership between local authorities and professional associations to tackle critical issues.
"We will continue to work with the SSTA to identify where there is action we can take to improve the daily lives of teachers."